Hawaiian Dog Names – 150+ Beautiful, Unique Ideas!
Published:
Last updated:
by Jessi Larson
Aloha! So you're looking for Hawaiian dog names? You've come to the right place.
We love the idea of giving your dog a Hawaiian-themed moniker. These names are beautiful, breezy, tropical, and unique.
If you have ties to Hawaii or have traveled there, you should definitely consider these names. Heck, even if you admire the Aloha state from far away and dream of going there one day, these are super fun. After all, Hawaii represents sunshine and happiness.
Hawaiian Dog Names Based on Locations
Hawaii is a breathtaking locale full of lush greens, beautiful beaches, and pristine water. The state is comprised of six major islands and within them are interesting cities and landmarks galore. This provides excellent inspiration for Hawaiian dog names!
Kauai – The oldest of the Hawaiian islands and the fourth largest.
Maui – The second largest island, Maui is a popular tourist destination.
Oahu – The third largest of the Hawaiian islands in terms of size, Oahu is home to two-thirds of the state's population.
Molokai – Nicknamed "the friendly island," Molokai is the fifth largest island in size.
Honolulu – The capital of Hawaii and the largest city.
Lanai – The smallest populated island, Lanai is also called the Pineapple Island.
Hilo – A large city in Hawaii county.
Pearl – Named after Pearl City, near Pearl Harbor.
Kailua – A city that serves as a center of tourism and commerce.
Waipahu – A former sugarcane plantation town near Honolulu.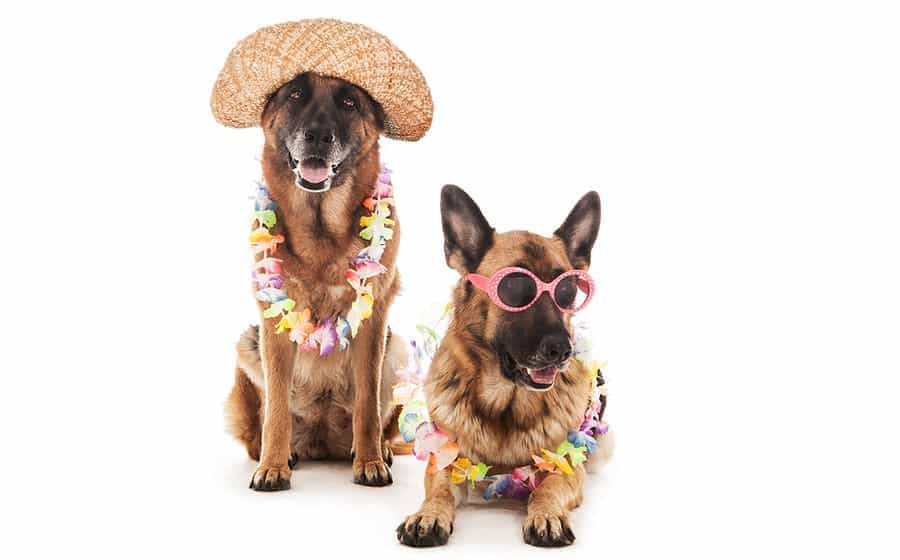 Popular Words & Phrases That Make Cool Hawaiian Dog Names
Traditional Hawaiian words can make pretty, unique names as well.
Aloha – Hello and goodbye
Mahalo – Thank you
Ilio – Dog
Mau Loa – Forever
Keiki – Child
Ohana – Family
Kahuna – Priest
Kanaka – Human
Kane – Man
Wahine – Woman
Paniolo – Cowboy
Anuenue – Rainbow
Honi – Kiss
Hoku – Star
Makana – Gift
Nohea – Handsome
Pupule – Crazy
Wiwi – Skinny
Kono – Invited
Male Hawaiian Dog Names
If you have a boy dog, consider these traditional male Hawaiian names. We've also included their meanings to get a full scope of the name.
Ailani – High chief
Aka – Shadow
Akamu – Red earth
Alemana – Warrior
Amana – Warrior
Amoka – Strong
Anakoni – Valuable
Analu – Manly
Asera – Lucky
Edega – Wealthy
Etana – Strong
Ezera – Help
Hae – to growl
Hiwa – Jet black
Kahoku – Star
Kaipo – Sweetheart
Kalani – Royalty
Kale – Strong and manly
Kanuha – The sullen
Kapena – Captain
Kapono – Goodness
Kealii – The Chief
Keanu – Cool mountain breeze
Kei – Dignified
Keiki – Child, boy
Kekipi – The Rebel
Kekoa – The brave one
Kekona – Second
Keoki– George in Hawaiian
Kikokiko – Speckles
Kimo – James in Hawaiian
Koa – Bold and brave
Kolohe – Little rascal
Liko – Bud
Lupo – Wolf
Malo – Winner
Mano – Shark
Meka – Eyes
Nahoa – bold and defiant
Nui – Imporant
Oke – Oscar in Hawaiian
Ole – Fang
Paul – The day is done
Palani – Free man
Pekelo – Stone
Pilikea – Trouble
Polo – Large and plump
Polupolu – Flabby
Pûkini – Pudding
Waha Nui – Big mouth
Weuweu – Fluffy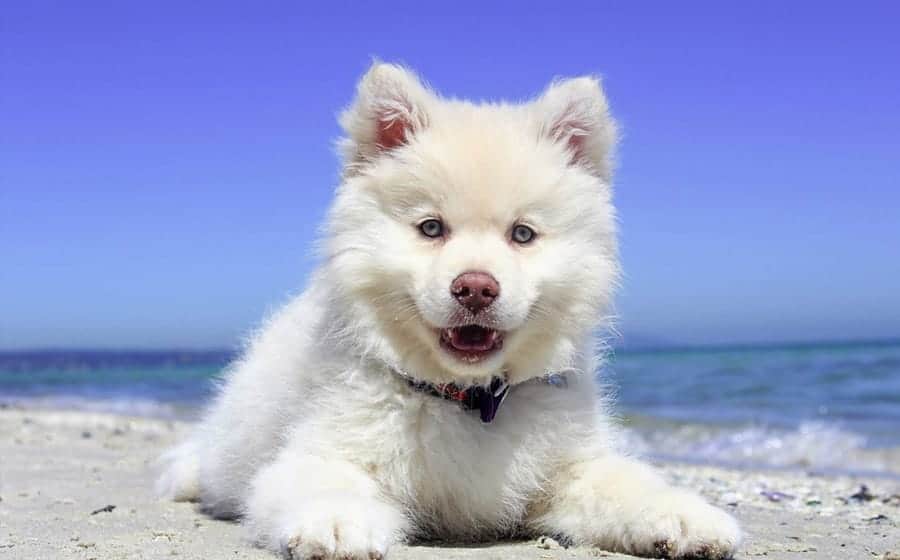 Female Hawaiian Dog Names
And if you have a girl dog, don't worry – we've got you covered. Here are super cool Hawaiian dog names for female pups.
Akela – Wisdom
Alamea – Precious child
Alana – Awakening
Alani – Orange fruit tree
Alaula – Light of daybreak
Aliikai – Queen of the sea
Alika – Truthful
Aolani – Heavenly cloud
Eleu – Agile and lively
Ewalani – Heavenly woman
Haimi – The seeker
Halia – Fond remembrance
Hanai – Lucky
Hoala – Agitate
Hula – Dance
Iniki – Famous Hawaiian hurricane
Inoki – Devoted
Iokina – God will develop
Iolana – Soaring like a hawk
Ipo – Sweetheart
Kahili – Feather
Kaia – The sea
Kaikala – Sea and the sun
Kaila – Stylish
Kailani – Sea and sky
Kaimana – Man of the sea
Kaiolohia – Calm of the sea
Kalama – The light
Kalani – The sky
Kalea – Bright
Kalei – Beloved
Kalena – Brightest start
Kaloni – Sky
Kamea – the one and only
Kani – Sound
Kapua – Flower
Keala – Pathway
Kailana – Adored one
Keilani – Glorious Chief
Keona – God's precious gift
Kiele – precious blossom
Kona – Lady
Lahela – Innocent lamb
Laka – Gentle
Laki – Lucky
Lalama – Daring
Lani – Sky
Lanikai – Heavenly sea
Leilani – Royal child
Lilo – Generous one
Lokelani – Red small rose
Lolo – Crazy
Loni – Heaven
Luana – Happy
Mahina – Moonlight
Makani – The wind
Malana – Light
Malia – Calm and peaceful
Malina – Calming, soothing
Mana – Power
Meli – Honey
Melia – Plumeria
Miki – Quick
Miliani – Gentle caress
Mirena – Beloved
Moana – Ocean
Nalani – Calm skies
Nani – Great beauty
Noe – Rainy
Noelani – Girl from heaven
Nohea – Lovely
Okalani – Heaven
Oliana – Oleander
Olina – Joyous
Palila – Bird
Poluna – Chubby
Pualani – Heavenly flower
Pualena – Yellow
Puanani – Beautiful flower
Roselani – Rose
Uilani – Great beauty
Ululani – Inspiration
We love these names and think any one of them would make a cool dog name. But for other ideas, try our dog name generator, or these related lists:
Teach Your Dog Their Name
View Your Saved Names