Do you love to hit the links and enjoy a round of golf? You could turn your favorite pastime into a name for your pup with these 127 golf dog names.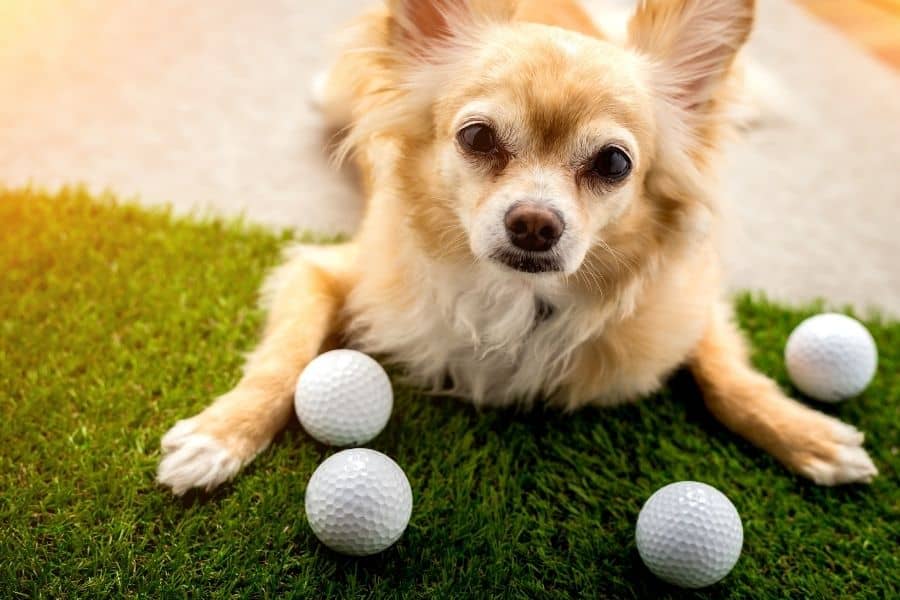 Golf Related Dog Names
Let's kick off our list with golf terms that serve as some of the best golf dog names. These words are commonly used on the course and could be the right fit for your new four-legged friend.
Ace
Albatross
Birdie
Bogey
Bunker
Caddie
Chip
Chunk
Condor
Cuppy
Dimple
Divot
Dormie
Drive
Duff
Duffer
Dunes
Eagle
Fairway
Flier
Flub
Fluffy
Fore
Gimme
Green
Major
Mulligan
Pace
Par
Pistol
Putt
Sandy
Score
Scramble
Stinger
Waggle
Wedge
Tee
Famous Golfers
Another idea for golf dog names is to use the name of a famous golfer. But, again, you could go with the first name or the last name, depending on what sounds right for your puppy.
The following names represent the most popular players in the game throughout history. Perhaps one of these golfers is your favorite, and you'd like to share the name with your dog.
Or maybe there's a lesser-known golfer you like who could also serve as inspiration for a name.
Annika – Annika Sorenstam
Arnie – nickname for Arnold Palmer
Babe – Babe Didrikson Zaharias
Bear – Jack Nicklaus' nickname
Ben – Ben Crenshaw
Bobby – Bobby Jones
Brooks – Brooks Koepka
Bryson – Bryson DeChambeau
Byron – Byron Nelson
Bubba – Bubba Watson
Champ – Cameron Champ
Daly – John Daly
DJ – Dustin Johnson
Freddy – Fred Couples
Fuzzy – Fuzzy Zoeller
Hogan – Ben Hogan
Huck – Tom Watson's nickname
Mo – Old Tom Morris
Money – Colin Montgomerie
Nelly – Nelly Korda
Nicklaus – Jack Nicklaus
Norman – Greg Norman
Pepper – Dottie Pepper
Phil – Phil Mickelson
Player – Gary Player
Rickie – Rickie Fowler
Rory – Rory McIlroy
Sammy – Sam Snead
Sergio – Sergio García
Seve – Seve Ballesteros
Spieth – Jordan Spieth
Tiger – Tiger Woods
Vijay – Vijay Singh
Watson – Tom Watson
Golf Brands
The game of golf is all about the brands. Golfers love to sport the latest and greatest looks, and the following brands are commonly associated with the game.
Do you like to wear any of these? Or does one sound catchy and cool?
You could find the perfect pick in this list of brand-related golf dog names.
Adams
Bertha
Bridgestone
Callaway
Callie
Cameron
Cleveland
Cobra
Miura
Mizuno
Nike
Parsons
Ping
Scotty
Srixon
Taylor
Titleist
Vice
Volvik
Wilson
Top Golf Courses
Another idea for golf puppy names is to look at the top golf courses in the world. The following courses are well-known locations for some of the most prestigious tournaments.
These options represent a unique, cool twist on the typical golf dog name.
Augusta
Arcadia
Bandon
Caledonia
Cypress
Fisher
Pebble
Merion
Pinehurst
Royal
Shadow
Torrey
Whistling
Wolf
Other Fun Golf Dog Names
The inspiration isn't over yet! Here are more fun options that play on the golf theme.
Some names are from famous movies, while others represent slang terms in the sport.
Check them out and see if one is right for your proud new pet.
Bagger – Bagger Vance or Sandbagger
Beach – slang for sand trap
Chubbs – Chubbs Peterson from Happy Gilmore
Fringe – section of fairway
Gilmore – Happy Gilmore
Hacker – term for a poor golfer
Happy – Happy Gilmore
Hazard – area of course with difficult obstacle
Jaws – area around the hole
Links – a golf course style
Nassau – A type of golf wager
Obie – out of bounds
Rough – areas outside the fairway
Ryder – the Ryder Cup tournament
Shooter – Shooter McGavin from Happy Gilmore
Scramble – tournament format
Scratch – as in scratch golfer, someone who has around a zero handicap
Shank – when the ball isn't hit with the club face
Slice – a golf ball that curves away to the right
Waggle – loosening your body before a shot
Yip – swing issues
Final Thoughts: Golf Inspired Dog Names
The game of golf is an excellent lifelong sport enjoyed by millions worldwide. So if you love golf, it only makes sense to give your pup a name based on your favorite pastime.
It doesn't matter if you're a fair-weather fan who only golfs occasionally or if you hit the links weekly. Anyone can give their puppy a golf name.
As you look through the list of ideas, take note of any that sound interesting. Then, make a list or click on the heart icon to the left.
From there, read through all the ideas and remove any that aren't a total fit. You'll know it in your gut if a name isn't right.
Next, same the name out loud. Can you imagine calling for your pup with this name?
These tips will help you find the perfect golf-inspired dog name!
More Name Ideas?
Do you have any more ideas for golf names? If so, share your thoughts in the comments below!
We're always looking for feedback and new name ideas for our site.
Golf is a fantastic game and provides a lot of inspiration for dog names, and we're sure you have ideas we didn't even think of.
View Your Saved Names