In ancient Egypt, it's well known that cats were considered sacred, but dogs were also equally popular with high regard. This list of Egyptian dog names will give you some great ideas for unique dog names you won't find anywhere else!
In ancient Egypt, dogs were domesticated and served as hunters and companions just like they do today. Dogs were mentioned in mortuary texts and found in imagery, including a man walking a dog on a leash. The dog breeds depicted seem to be the Basenji, Greyhound, Pharoah, Whippet or Saluki.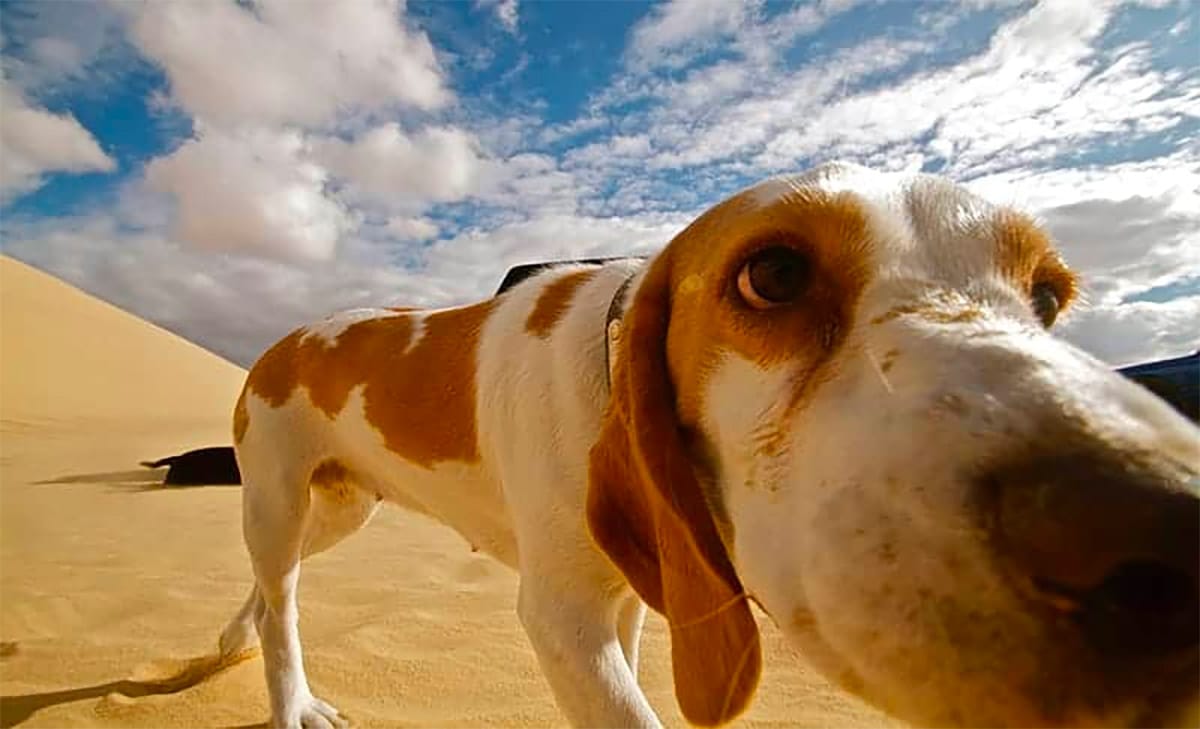 The god & protector of the underworld, Anubis was depicted with a dog's head. This dog looks like one of these breeds, possibly a Basenji. This god was very important to Egyptians as it guided the dead souls to judgement in the afterlife. Dogs freely roamed through Anubis' temple in the town of Cynopolis (City of the Dog).
Ancient Egyptians cared greatly about their dogs and believed they would reunite with them in the afterlife. They even named their dogs and collars have been found with names inscribed on them.
Female Egyptian Dog Names
Aisha – peaceful
Amenti – goddess of the land of the west
Ankhsi
Annipe – daughter of the Nile
Anukis – goddess of the Nile
Aziza – precious
Bastet (or Bast) – represented protection, fertility and motherhood
Bau – dog headed goddess of fertility
Chione – daughter of the nile
Cleopatra – famous Egyptian queen
Dalila – sweet
Femi – lover
Hasina – good
Hebony – black
Isis – motherhood goddess
Kamilah – perfect
Kepi – tempestuous
Kiwu – obese
Kosey – word for lion
Lapis – blue semi-precious jewel
Layla
Maye – beloved of Amun
Menhit – Egyptian war goddess
Nebit – leopard-like
Nefertiti – queen of Egypt
Nile – river in Egypt
Phoenix – mythological bird that rose from the ashes
Scarab – beetle & frequent symbol
Sekhmet – warrior lioness goddess of light
Shani – wonderful woman
Tia – Princess during 19th dynasty
Male Egyptian Dog Names
Abasi – serious
Aker – earth deity that guarded the dead
Akil – smart
Ammon – mystery
Amun – powerful chief of gods & fertility
Anubis – protector of underworld, depicted with a dog's head
Aten – sun
Azizi – precious
Horus – sun god
Imhotep – peace
Kahotep – peaceful
Khafra
Khalid – immortal
Kufu – one of the pharaohs
Luxor – temple
Mihos – lion-headed son of Bastet
Mekal – fierce devourer
Mkhai – fighter
Mshai – wanderer
Nephi – good son
Nomti – strong
Odion – yellow flower
Osiris – lord of life after death
Pepi – Egyptian ruler
Pharaoh – Egyptian leader
Ra – sun god
Rameses – name of multiple pharaohs
Seb – god of earth
Seth – god of chaos
Seti – 19th dynasty ruler
Sobek – god with body of a man and head of a crocodile
Sphinx – lion with a human head
Tut – pharaoh Tutankamun
Zoser – king
Want more name ideas? Try a dog name search!
Teach Your Dog Its Name!
View Your Saved Names