Best Toys for Labs – Top 10 Labrador Toys
Published:

Last updated:

by Jessi Larson Affiliate Disclosure: We hope you love the products we've recommended! As an Amazon Associate we earn a small share from qualifying purchases.
If you own a Labrador Retriever, you know they need lots of mental and physical stimulation. Dog toys are a great way to expel energy – but what are the best toys for Labs?
With so many toys on the market, it may seem overwhelming to find the right one. Our buyer's guide will help clear up the confusion.
We have lots of experience with this breed and have personally tried every one of the products on this list with our energetic, extra large Lab.
Let's look at the best toys for Labs and review the pros and cons of each.
Best Toys for Labs: Top 10 Picks Revealed
#1) Bark Super Chewer Box
A monthly subscription box with toys and treats for big dogs who are extra tough on their toys
Pros
Fun way to try new toys
Toys are specifically designed for bigger dogs

Free shipping and replacement of broken toys
Cons
Reoccurring monthly expense
At the top of our list of the best toys for Labs is the Super Chewer box from BarkBox. This monthly subscription includes tough dog toys and treats that are selected specifically for large dogs who like to chew.
We reviewed the box earlier with our Lab, Toby. He put in some heavy chew sessions and made a dent in the toys but they still survived which is a feat!
Every box comes with two tough toys, two full-size bags of treats and two meaty chews, all designed for tougher and larger than average pups.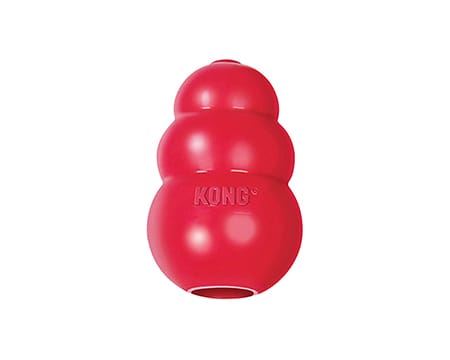 #2) Classic KONG Toy
A quintessential dog toy that keeps pups engaged and occupied for a very long time
Pros
Construction stands up to tough chewers
Choose any type of filling and treats

Made in the USA from globally sourced materials
Cons
Must order the right size for your pet
Do you have a classic KONG toy for your Labrador? If not, buy one ASAP! It's hands down one of the best toys for Labs.
All you need to do is fill the KONG with some sort of treat. Peanut butter, cheese, dog food, a biscuit, whatever. The design of the KONG makes your dog work for the treat and keeps them busy, giving you some extra uninterrupted time.
We give our dog Toby a KONG with peanut butter every day as a special treat and as a way to keep him busy.
#3) OurPets Buster Food Cube Interactive Dog Toy
An interactive treat dispenser that encourages healthy eating habits while providing physical activity
Pros
Mentally and physically stimulates your dog
Adjustable difficulty levels challenge pups
Easy to use and to clean
Cons
Can be very noisy
Tough chewers may break off plastic if left unattended
Some days it feels like your Labrador just won't chill out but you don't have the energy to take them out for yet another walk. That's when you turn to the Buster Food Cube.
Here's how it works: You load in the treats through the center column, turn it tight and place it on the floor for your dog to play. They'll quickly learn that they have to push the Food Cube around to get any sort of treat.
The food dispenses slowly so your dog will get quite a workout in the process. This is definitely one of the best toys for Labs!
#4) PetSafe Busy Buddy Jack Dog Toy
A fun and challenging puzzle toy that makes dogs work for their reward
Pros
Durable nylon and rubber construction
Includes natural rawhide treat ring refills
Great toy for dogs with separation anxiety
Cons
Some tough chewers may pull off parts
The PetSafe Busy Buddy Jack Dog Toy is another great way to keep your Lab busy. Created with extra-strength materials, this Labrador toy can withstand the toughest play, and the unique design keeps your pup entertained for extended periods of time.
The rubber and nylon surfaces firmly grip treats to motivate dogs to play longer. You can load treats on either side of the purple knobs for easier access or beside the white end pieces for more of a challenge.
#5) Chuckit! Pro Launcher
This launcher wand and ultra-durable ball take games of fetch to the next level for Labs
Pros
Enjoy hands-free fetch with your dog
Easily throw the ball 100 to 140 feet
A great way to bond with your pooch
Cons
Not a great toy for dogs who don't love fetch
Do you have a Lab who loves to play fetch? Save your arm and buy a Chuckit! Pro Launcher.
This product has revolutionized the game of fetch. The launcher sends the ball sailing distances the human arm just can't replicate for a longer throw with much less effort.
Plus, you never have to touch the slobbery balls that your dog brings back. You can simply scoop up the ball without getting your hands dirty.
Even better, the Chuckit! high-quality, durable balls are great for tough chewers. They last so much longer than regular tennis balls.
#6) KONG Xtreme Rubber Ball
A long-lasting, extremely fun bouncy ball for energetic dogs who love to fetch and chew
Pros
Made from KONG ultra-durable rubber
Extra bounce makes fetch extra fun
Inser

t treats for added interest
Cons
Much heavier than other balls
If your Lab loves to fetch AND chew, the KONG Xtreme Rubber Ball is a great choice.
Made from KONG's extra strong rubber formula, the sturdy ball stands up to the toughest chewers so you don't have to worry about your dog destroying it. The extra bounce also makes it awesome for fun games of fetch with lots of interactive play and exercise.
The center features a hollow insert to add treats, peanut butter or other food, which is always a great incentive for Labs!
#7) Nylabone XL Dura Chew Textured Toy
A tough, durable nylon bone that keeps powerful chewers busy and promotes healthy teeth
Pros
Promotes safe, healthy chewing habits
Bristles help to clean teeth and freshen breath

Includes scents to entice your dog
Cons
May be too hard for some dogs
We couldn't create a list of the best toys for Labs without mentioning the beloved Nylabone. The Nylabone is sort of like a rawhide but safer and lasts so much longer.
A uniquely shaped toy, the Nylabone is made of an extra-strong nylon that very slowly wears down. (We actually still have the original Nylabone toy we bought for our Lab almost a decade ago!)
As an added bonus, this toy promotes clean teeth and helps control plaque and tartar buildup. It's a major win-win: Your dog has a chew toy that keeps them occupied AND it helps keep their teeth clean and healthy.
#8) Pacific Pup Extra Strong Rope Toys
A set of 10+ extra strong rope toys for tugging, chewing, shaking and much more
Pros
Includes a variety of tough dog ropes
Plastic free and meets the toughest safety requirements
Supports Pacific Pups Rescue
Cons
Aggressive chewers may tear off strings
Rope toys are awesome for Labs. They're great for chewing and for friendly games of tug-of-war.
Unfortunately, Labs can destroy rope toys quite quickly. The Pacific Pup Extra Strong Rope Toys are tougher, however. Plus, they're made of safe material for when the threads eventually do pull out.
This package includes three different-shaped toys, including a ball-shaped rope which is toughest for Labs to destroy.
#9) TUFFY Elephant Stuffed Toy
A strong stuffed toy for larger dogs that includes a squeaker to entice your pup
Pros
Assembled with multiple seams and webbing
Three uniquely fused layers for added durability
Floats in water and is machine washable
Cons
For play, not chewing
Made for moderate chewers only
It might seem like your Labrador just isn't destined to own a stuffed toy. After all, most Labs quickly destroy these types of toys, pulling out the stuffing within seconds.
The TUFFY Elephant Stuffed Toy, however, proves that it is possible for a Lab to own a stuffed toy. It's made of multiple layers and a number of seams for extra reinforcement that this breed needs. Plus, the squeakers are sewn inside protective pouches for your dog's safety.
You won't want to let your dog chew on this all day, but unlike other stuffed toys, it'll stand up to the energy and destruction of a Lab.
#10) Chuckit! Kick Fetch Toy Ball
An extra durable outdoor ball with grooves for games of fetch or soccer
Pros
Easy to pick up and easy on your pup's mouth
Can play with ball on land or in water
Bright colors make it easy to find
Cons
Extra tough chewers may pierce ball
Last but not least on our guide to the best toys for Labs is the Chuckit! Kick Fetch Toy Ball.
The design of the ball lets you kick it like a soccer ball while the grooves make it easy for your dog to carry it back. It's great for burning off energy with this boisterous breed.
Because it's Chuckit!, the ball is made with an extra strong, puncture-resistant material that will last for a very long time.
Labrador Retriever Exercise Needs and Best Toys for Labs
The American Kennel Club (AKC) rates the exercise needs of all their registered breeds on a scale of "Couch Potato" to "Needs Lots of Activity." As you might have guessed, the Labrador Retriever is in the "Needs Lots of Activity" category.
An energetic, exuberant breed, the Lab needs lots of exercise every day. They especially love retrieving and swimming. That's why so many toys on this list are focused on retrieving and also work in water.
Labs are especially good at hunting and field trials and excel at canine sports such as agility, tracking, and dock diving.
But you don't need an elaborate sport to exercise your dog. Walks, trips to the dog park, swimming, games of fetch and playing with Labrador toys are enough to satiate their endless energy.
This is all very important because a Lab who doesn't get enough exercise will need to release their pent-up energy in some way, usually in a destructive manner like chewing on objects they're not supposed to.
Buying the best toys for Labs will undoubtably help provide the mental and physical stimulation your pup needs!
Final Thoughts: Best Toys for Labs
Finding safe, solid Labrador toys isn't easy. But this list of best toys for Labs includes some of the most tried and true options out there.
We've personally purchased all of the toys on the list for our dog Toby and can vouch for every one!
Whenever you introduce a new toy to your dog, however, make sure you supervise their play. You never know how they'll react to the toy and what kind of damage they could do – especially with Labs.
Also, it's a good idea to try out several types of toys. Some dogs love to play fetch and interact with you while others are more content to play alone. This will shape what types of toys they prefer.
Plus, Labs seem to have an endless supply of energy, so the more toys, the more options they'll have for blowing off steam!
Ultimately, you can't go wrong with any of these Labrador toys. Your strong and spirited furry friend will be happy to receive any one of them and to bond with you in the process.