If you love the Dark Knight comics, these Batman dog names may perfectly match your puppy. We've gathered the best name ideas from the Batman movies, comics, games, and animated series.
The first issue of Batman, created by Bob Kane and Bill Finger, was published in 1939, and since then, the character has become a cultural icon. Over the years, the comics have undergone numerous transformations, reflecting society's changing values and attitudes. From the campy Batman of the 1960s to the darker, grittier version of the 1980s and beyond, the character has consistently adapted to the current era.
However, despite the many changes, the core of the Batman comics remains constant: a tragic hero, motivated by a desire for justice, who employs his intellect and physical prowess to combat the corruption and crime that plagues his city. If you love this character and his universe, you'll love these awesome dog-naming ideas.
Male Batman Dog Names
Here are some male characters from the comics and shows to begin our list. We've narrowed our list to names that could make a good dog name. You'll want something short, and easy to say, and you won't be embarrassed to tell strangers.
Ace – Ace The Bat-Hound was a dog who helped Batman and Robin find his owner. He eventually became Batman's dog and occasionally appeared in the comics.
Alfred – Alfred Pennyworth, Batman's trusty butler
Azrael – An assassin who replaced Batman when he was injured
Batarang – a thrown projectile
Batman – The Dark Knight of Gotham and hero of the comic book series
Bruce – the man behind the mask
Damian – Bruce Wayne's son
DC – DC Comics
Drake – Tim Drake, aka Red Robin
Duke – Duke Thomas, Batman's partner The Signal
Ghost – Ghost-Maker, a crimefighter who also works in Gotham
Gordon – Jim Gordon, the police commissioner
Gotham – The city setting for the comic series
Grayson – Dick Grayson, the original Robin's secret identity
Jace – Timothy "Jace" Fox, son of Lucian Fox who briefly took up the helm of Batman
Jarro – A Star Conqueror created by Batman to assist the Justice League
Kane – Bob Kane was the co-creator of Batman
Knight – The Dark Knight
Lucius – Lucius Fox, the CEO of Wayne Enterprises
Matches Malone – An alter ego for Bruce Wayne to infiltrate the criminal underworld
Robin – Batman's famous sidekick
Ryder – Jack Ryder, a reporter and the Creeper
Titus – Bruce Wayne gave this dog to his son Damian. It's named after Titus Andronicus from Shakespeare.
Wayne – Bruce Wayne, whose alter ego was Batman
Related: You might also enjoy our superhero dog names
Female Batman Dog Names
While there aren't as many female characters in the Batman series, here's a selection of great ideas for your pup. You'll also find some female villains listed below.
Batgirl – aka Barbara Gordon
Cassandra – Cassandra Cain, the fourth Batgirl
Harper – Harper Row, aka Bluebird
Huntress – a vigilante who fills in as Batgirl
Silver – Silver St. Cloud, a wealthy socialite who dated Bruce Wayne
Talia – Talia al Ghul married Batman and had his son, sometimes she's also an enemy
Vesper – Vesper Fairchild, a reporter who dated Bruce Wayne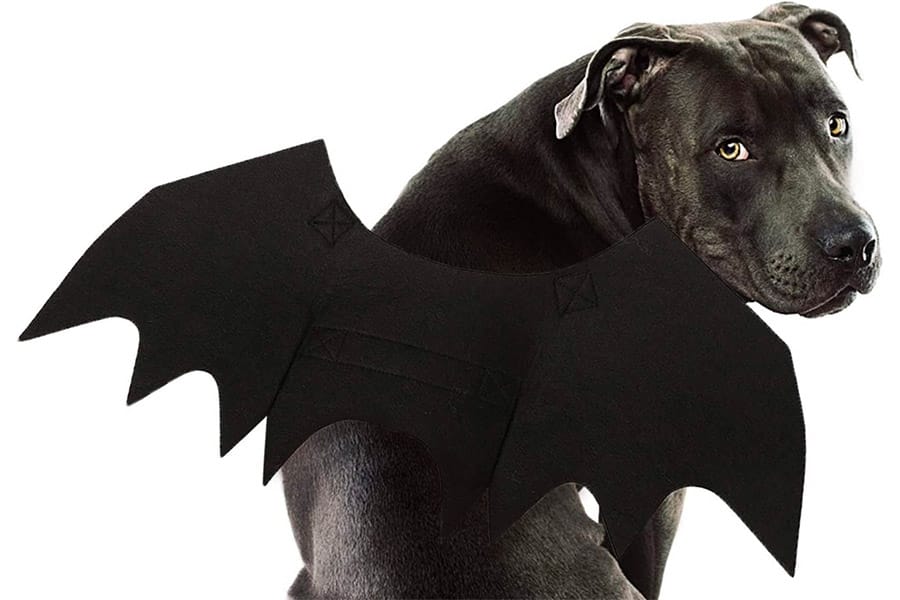 Batman Villain Dog Names
Here are some of Batman's greatest foes that also might make an excellent name for your dog.
Bane – a masked, brutal foe
Bruno – Bruno Mannheim, the leader of crime syndicate
Freeze – Mr. Freeze a cold-wielding villain
Harley – Harley Quinn, Joker's female accomplice
Harvey – Harvey Dent, the District Attorney who became Two-Face
Ivy – Poison Ivy supervillain who controls plants
Joker – The original supervillain and prankster
Karlo – Basil Karlo, Clayface was a formal villain who joined Batman's team
Oswald – Oswald Cobblepot aka The Penguin
Ra's – Ra's Al Gul, a villain who also helped train Batman
Riddler – A villain who works in puzzles
Selina – Selina Kyle, aka Catwoman
Sensei – a martial arts master
Talon – an assassin in the Court of Owls
Zsasz – (pronounced Zaz) a frightening villain who tallies his victims
Batman Actor Names
These Batman dog names come from the various actors that have taken on the role of Batman or other characters. Who is your favorite Batman?
Affleck – Ben Affleck
Bale – Christian Bale
Burt – Burt Ward played Robin in the 60s series
Caine – Michael Caine, who played Alfred
Cesar – Cesar Romero, Joker in the 60s Batman
Clooney – George Clooney starred in 1997's Batman & Robin
Frank – Frank Gorshin, the Riddler from the 60s series
Halle – Halle Berry starred in the 2004 film Catwoman
Hamill – Mark Hamill may be best known for Star Wars, but he also voiced the animated Joker
Heath – Heath Ledger, who played the Joker
Keaton – Michael Keaton, from Tim Burton's 1989 Batman and Batman Returns
Kilmer – Val Kilmer from 1995's Batman Forever
Kitt – Eartha Kitt, the actress who played Catwoman in the 60s
Westie – for 60s Batman actor Adam West
Zoe – Zoe Kravitz, who played Catwoman
Related Dog Names
You might also like these other ideas:
View Your Saved Names