Spanish Dog Names – 200+ Awesome Spanish Names
Last updated:
by Jessi Larson
Spanish dog names are a fun, playful option for new dog owners who are feeling adventurous.
The Spanish language is beautiful and romantic. Originating in Spain, it is now the primary language of 427 million people in 31 countries around the the globe. This makes it the second most popular language in the world.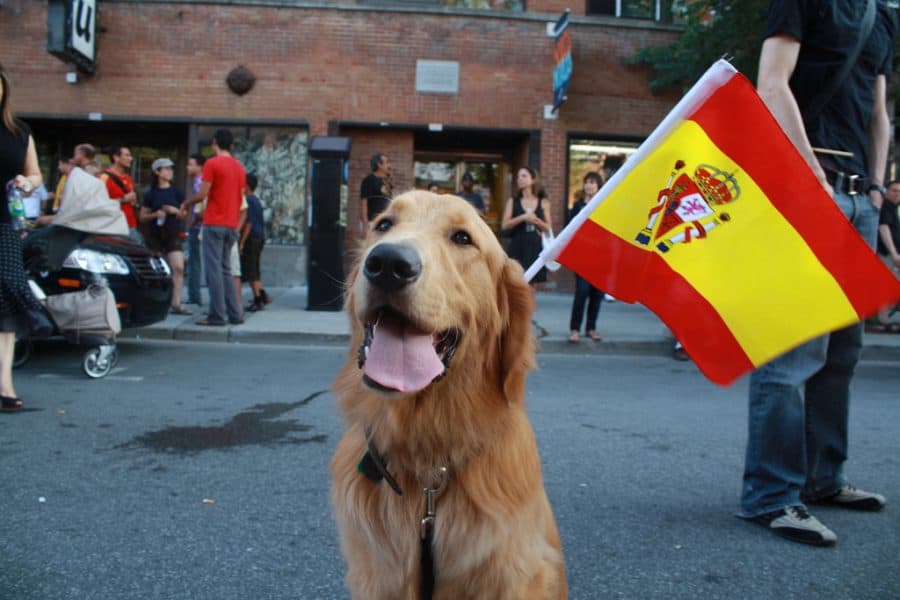 Got a Spanish dog breed? Then you should definitely check this list out.
Don't have one? Don't let that stop you from picking one of these fun Spanish dog names!
Male Spanish Dog Names
Abejundio
Alejandro
Alonzo
Antonio
Armand
Armando
Belen
Benito
Bernardo
Carlos
Carmine
Chico
Consuelo
Cortez
Cruz
Dante
Dario
Diego
Domingo
Donato
Eduardo
Eloy
Emilio
Enrique
Esteban
Federico
Felipe
Ferdinand
Fernando
Francisco
Galeno
Geraldo
Gitano
Gonzalo
Guido
Guillermo
Hernan
Inigo
Jorge
Jose
Juan
Julio
Leon
Leonardo
Lisandro
Lorenzo
Luis
Manco
Marco
Mario
Marques
Navarro
Nicolas
Onofre
Orlando
Pablo
Paco
Pancho
Paulo
Pedro
Ponce
Quito
Rafael
Ramon
Raul
Raymundo
Ricardo
Rico
Rio
Rodrigo
Roldan
Salvador
Sancho
Santiago
Santo
Serge
Sergio
Socorro
Vicente
Vito
Ximen
Zorro
Female Spanish Dog Names
Alejandra
Alicia
Alma
Anita
Beatriz
Bebe
Belinda
Bella
Blanca
Bonita
Brisa
Carina
Carissa
Carlotta
Carmen
Catalina
Charo
Chica
Chiquita
Cielo
Consuela
Coraima
Corazon
Cornelia
Cristina
Dahlia
Damita
Delora
Delores
Drina
Eldora
Elena
Elsa
Emelda
Esmeralda
Esperanza
Estrella
Eva
Felicia
Fernanda
Flor
Frederica
Frida
Fuensanta
Gabriela
Giselle
Gitana
Graciela
Hada
Idola
Inez
Inocencia
Isabela
Jacinta
Jade
Juana
Julia
Justina
Lalo
Lareina
Lela
Letitia
Lita
Lola
Loretta
Lucia
Lucinda
Luisa
Luna
Lupe
Luz
Macaria
Madrona
Magdalena
Marcela
Marcia
Margarita
Maria
Marina
Marta
Melia
Melosa
Mercedes
Mona
Mora
Natalia
Nelia
Neva
Nieve
Nina
Nita
Olinda
Paloma
Patia
Perdita
Presencia
Querida
Reina
Ria
Rima
Risa
Rita
Roberta
Rocio
Rosa
Rosalinda
Rosario
Rosita
Sancha
Sancia
Santana
Savannah
Senalda
Sierra
Soledad
Sonora
Tasia
Teresa
Tia
Tierra
Valencia
Ventura
Vida
Xiomara
Yolanda
Zanita
Zelia
Zerlina
Zita
Zoila
Funny Spanish Dog Names
Amigo – "friend", perfect for your best pal
Blanco – "white"
Dinero – "money"
Goal – "gooooooal" =)
Gordo – "fat"
Grande – "big"
Loco – "crazy"
Pequeno – "little"
Rojo – "red"
Torpe – "clumsy"
Toro – "bull"
Uno – "one"
Spanish Food Dog Names
Bravas – Patatas bravas, fried potatoes
Chorizo – cured sausage
Croquetas – fried food rolls
Jamon – ham is a Spanish favorite
Paella – rice and seafood dish
Pisto – Spanish ratatouille
Spanish City Names
Barcelona
Cordoba
Ibiza
Leon
Madrid
Palma
Ronda
Seville
Toledo
Valencia
Vigo
Hopefully these names provide some solid inspiration for naming your dog. If you want a sophisticated, international name for your dog but aren't wowed by the above, consider other foreign dog names, Mexican dog names or check out these unique dog names.
Got ideas for other Spanish dog names we should add to the list? Let us know below!
How to Teach Your Dog Its Name
Check out more articles about: