25 Best Dog Christmas Gifts
Last updated:

by Jessi Larson Affiliate Disclosure: We hope you love the products we've recommended! As an Amazon Associate we earn a small share from qualifying purchases.
Christmas gifts for dogs are one of the most fun things you can shop for this holiday season – or at least that's how we feel here at My Dog's Name.
Dogs are so full of excitement and joy already, and seeing them enjoy a special new toy or treat is such a magnificent moment of bliss.
As the holidays near, we've gathered inspiration as you shop for that special dog in your life.
25 Best Christmas Gifts for Dogs
Our list of the 25 best Christmas gifts for dogs includes a variety of ideas for dogs of all sizes. Some challenge your dog mentally, physically, or both, while others appeal to your dog's ever-present appetite.
As the clock counts down to Christmas, you don't want to delay finding the perfect gift for the dog in your life.
1. ZippyPaws Holiday Reindeer Hide and Seek Plush Toy
This interactive plush puzzle toy challenges your dog mentally and physically, all while being one of the most adorable things we've ever seen.
How it works is that you put the plush, squeaky reindeer toys in the Christmas-themed container and task your dog with finding a way to pull them out. Dogs love to bury their noses in the burrow to dig out the super-cute critters. You can also drop in a few treats for added fun.
It doesn't get more charming than this when it comes to dog Christmas gifts.
The only downside about this cute Christmas dog toy is that it's geared toward small and medium dogs only, leaving out the big guys.
Any pup parent with a large dog who is reading this right now can anticipate the destruction that would take place if they gave their dog this cute, delicate toy!
But don't worry; we have lots of other dog Christmas gifts on the list that are great for the big boys and girls.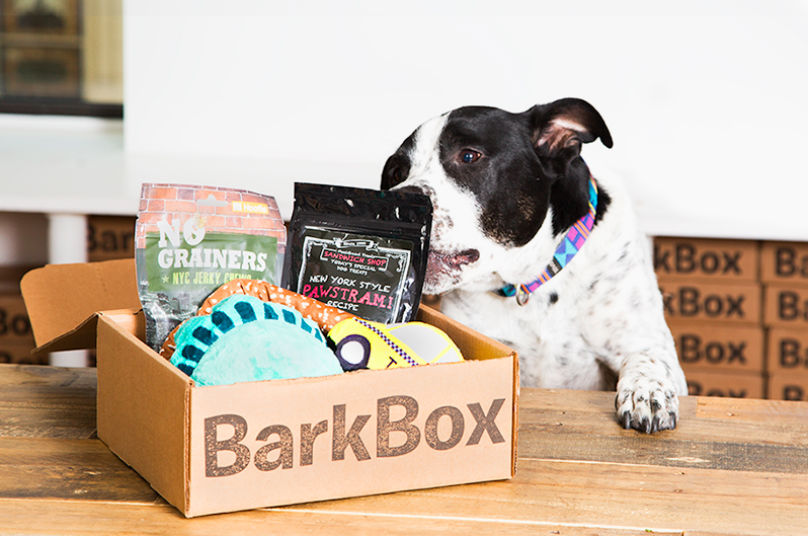 You've probably heard of BarkBox before. If not, here's the lowdown: It's a subscription service where every month, a box full of cool dog treats and toys is delivered to your doorstep. The box includes 4-6 items curated from their current collection.
When you get started, you can pick your dog's size so all the treats and toys fit your pup just right.
We love this because it's a fun surprise for dogs and pup parents alike. Getting a delivery every month is exciting! And it's also a convenient way to try out new treats and toys that you probably never would have heard of.
3. Bubbletastic Bacon Bubble Machine for Dogs
Bacon-flavored bubbles? This might be one of the most extraordinary Christmas gifts for dogs we've come across.
Dogs love to chase and chomp bubbles, and let's be honest; it's a whole lot of fun to watch. It's the gift that keeps on giving.
To get started, you load up the Bubbletastic Bacon Bubble Machine with the safe, 100% non-toxic solution, turn it on and sit back and watch your dog go crazy trying to catch the yummy bubbles.
This is an excellent gift that's very different from the standard array of bones, balls, and plush toys.
4. KONG Wubba Ballistic Friends
A list of the best Christmas gifts for dogs isn't complete without something from KONG, the creator of innovative, durable dog toys that we at My Dog's Name adore.
The KONG Wubba Ballistic Friends are a cute and tough interactive squeak toy that challenges your pup physically. Each toy is covered with durable, reinforced nylon for added toughness, which is excellent for the vigorous chewers.
Versatile and strong, the Wubba is designed for indoor and outdoor use. And this is a toy that you can play with, too! Their floppy tails make them easy to pick up and throw, making them perfect for a game of fetch or tug-of-war.
Looking for a fun toy and lots of laughs? Check out the Rogz Grinz Dog Ball Treat.
First off, this is a pretty practical gift. The durable ball bounces and floats, making it perfect for games of fetch on land or in the water.
But, as you can see in the photo below, this is no ordinary ball. When it lands in their mouth just right, your dog will look like it has a big, cheesy grin. Fetch has never been funnier!
6. iFetch Interactive Ball Thrower for Dogs
Speaking of fetch, have you ever had a dog that just won't stop? You'll throw the ball time after time, and they can't get enough.
The iFetch Interactive Ball Thrower is the perfect solution if this describes your pup. First, your puppy drops a tennis ball into the top, and a second later, the ball fires out for a game of fetch. The gadget does require a bit of training on your part, but once your dog gets the hang of it, they can entertain themselves for hours. Here's a demo video of how it works.
iFetch offers small, medium, and large versions, so you can find a size that fits your pup appropriately.
This is a little bit on the expensive side for Christmas gifts for dogs. But when you calculate how much time this will save you, not to mention the joy it brings to your dog, it may well be worth it.
7. Dog Cookie Gift Basket
Another fun idea for dog Christmas gifts is to treat the lucky pup in your life to a gift basket full of dog treats.
We like this gift basket because it includes treats and toys that they'll love.

Since the first film in 1977, Star Wars has been incredibly popular. And these days, it is more popular than ever thanks to the reboot by J. J. Abrams.
So, if you have a Star Wars lover in your life or are a fan yourself, these stuffed toys are perfect for dog Christmas gifts.
Stores are full of Star Wars dog toys, but what sticks out for us are the Chewbacca, Yoda, and Ewok plush toys. They're simply adorable, not to mention some of the most iconic characters in the series.
Dogs need mental stimulation; otherwise, this can lead to unwanted behavior. With the Outward Hound Puzzle Training Toy, pups get that needed activity while having fun in the process and getting a yummy reward for their work.
The puzzle includes multiple hiding cups where you place treats and encourage your dog to find them. By pawing and nuzzling, dogs learn to seek out and retrieve the goodies.
Don't eat the yellow snow!
These plush, squeaky dog balls are a fantastic gift for the winter season. They're not only cute and funny but are perfect for wearing out a dog who's stuck inside during the colder months.
Have you heard of Bully Sticks? If not, we highly recommend you check them out. We give one to our dog Toby as a treat almost every day.
Bully Sticks are a great alternative to rawhides. They're made from high-quality, free-range, grass-fed beef that is 100% digestible and safe.
This is an excellent gift for medium and large dogs who like to chew. A single stick will keep a dog occupied for a long time!
Sure, Bully Sticks aren't as cute as a fluffy stuffed toy, but they are practical and great for a dog's health.
If you're looking for Christmas dog gifts tailored to the holiday season, it doesn't get cuter than these ZippyPaws Holiday Squeakie Buddies.
The pack includes toys in the shape of Santa, a reindeer, and a snowman. Even though they're soft and supple, the toys do not contain any stuffing, ensuring that they will last much longer.
Since they're small and lightweight, these are geared for small and medium dogs. Pups of this size will enjoy playing with the toys, carrying them around, and of course, hearing the soft squeaks.
13. Chuckit! Sport Launcher Dog Ball Thrower
We're huge fans of the Chuckit! Sport Launcher Dog Ball Thrower. It's an absolute must for any dog who likes to play fetch.
You might be saying, why can't a person just throw the ball themselves? And it's a good point.
However, the Chuckit! Sport Launcher gives your arm a break and allows you to throw the ball to much further distances.
Another bonus: You'll never have to bend down and pick up a slimy ball. The launcher lets you scoop up the ball without ever touching it.
14. Coffee Squeaky Plush Dog Toy
Peppermint mochas are a favorite drink during the holidays. And now you can extend that joy to a dog!
No, we're not saying you should give a dog a caffeinated beverage. Instead, you can purchase this plush coffee squeaky toy that is perfect for the holiday season.
As we continue our best dog Christmas gifts list, another item we recommend is the OurPets IQ Interactive Treat Ball.
It's a great way to stimulate a dog mentally and physically. To get started, you place dog food or small treats in the ball and set it on the floor for your dog to play with.
Dogs will have a ball (pun intended!) pushing it around to release the tasty morsels.
We purchased this for our dog Toby when he was a puppy, and it was a great way to keep him active and entertained during the winter months when it was too cold to go outside.
16. Classic Gourmet Dog Cookies
The holidays are a time to gather and eat lots of delicious treats. And now, with these gourmet dog cookies, pups can get in on the action, too.
Created by Claudia's Canine Cuisine, the treats are freshly baked with premium, human-grade ingredients.
The pack includes assorted holiday cookies and makes a great stocking stuffing. After all, every family member needs something to open on Christmas morning!
Now dogs can dress up for the season, too, with these classic Christmas bandanas.
The pack includes two bandanas – one red and one green – and is available in sizes small or large.
Stylish and simple, these classic Christmas bandanas are a great way to show off your holiday cheer through your favorite canine.
Some of the best Christmas gifts for dogs can be used all year round. This rope toy set is precisely one of the gifts.
The set includes 10+ rope toys that are great for chewing, shaking, and playing tug of war.
What sets these rope toys apart from the hundreds of other options on the market is that a generous portion of the proceeds are donated to rescue dogs in need. So you'll be getting a gift and doing good!
Traditional tennis balls can be so dull. All you can do is play fetch. As a much more fun alternative, buy an interactive Babble Ball!
Incredibly, the Babble Ball talks when touched. The motion-activated technology is so sensitive it can be triggered by a dog breathing on it or just by the vibration of a pup walking past it.
The toy makes over 20 wisecracks and sounds, ensuring endless entertainment for dogs and humans.
Frisbees are an ideal dog toy. And there are many options available. But the Zogoflex Zisc Frisbee has many characteristics that set it apart from the competition.
For starters, the frisbee is incredibly durable. It can fly through the air, bounce, roll, and even be chewed.
At the same time, it's also soft enough to go easy on a dog's mouth and keep their chompers safe and healthy.
The manufacturer even provides a 100% guarantee against dog damage as a bonus. That's quite the offer!
21. Chuckit! Kick Fetch Toy Ball
Chuckit! is on the list again with the Kick Fetch Toy Ball. Available in small and large sizes, the ball is perfect for playing outside with a pup.
Unlike other balls of this size, this one has a grooved design that makes it much easier to throw and for a dog to bring back.
Also, the ball is constructed from durable canvas, rubber, and foam, making it highly durable, even for the toughest chewers.
And last but not least, the vibrant design makes it easy to find in wide-open spaces.
Here's another idea for a quick gift or a fun stocking stuffer: Triple Flavor Rawhide Kabobs.
Traditional dog treats can be a little boring. So you need something special for the holidays!
Rawhide kabobs are a delicious, healthy, and entertaining solution.
These chew treats are made from rawhide and pork hide then wrapped with real chicken, duck, and chicken liver – a perfect treat for that special pup in your life.
Dogs love to curl up with a comfy blanket. So when it comes to Christmas gifts for dogs, this might be at the top of their list. (If dogs could make a Christmas list, that is.)
This fluffy fleece blanket is explicitly designed for furbabies; this fluffy fleece blanket is extra soft and comfy. And if your dog gets it dirty – which they most likely will! – the blanket is machine washable.
The blanket is available in sizes small up to jumbo and in eight different colors so you can find the perfect fit and appearance.
Sure, Christmas isn't usually the time and place for ice cream. But when it comes down to it, dogs won't care – they'll be excited about a sweet treat!
All you have to do is add water and freeze. Then voila! You'll have a pup-friendly frozen treat that is healthy and delicious for dogs.
Best of all, it scoops just like ice cream, so it will feel like you're giving your dog the real thing.
25. Christmas Rope Toy Set
If you like the idea of rope toys for Christmas dog gifts, why not get a holiday-themed set?
This rope-toy reindeer and gingerbread man are doggone adorable. And since they're made of solid and durable materials, dogs will enjoy chomping down on these tough toys for hours.
As a bonus, rope toys remove plaque on a dog's teeth and work hard to keep their teeth and gums healthy.
Create a keepsake ornament with your pet's pawprint to cherish for years to come.
Why we like it:
It's a perfect (or should we say paw-fect?) Christmas gift
The person receiving it can personalize it how they see fit
It's a gift that will be cherished for a long time