Christmas Dog Beds We Adore – 15 Festive Options
Last updated:

by Jessi Larson Affiliate Disclosure: We hope you love the products we've recommended! As an Amazon Associate we earn a small share from qualifying purchases.

Christmas dog beds are a fun and festive way to get into the holiday spirit with your pet.

Some people like to deck out their bed with a Christmas comforter and pillows, so consider this the dog equivalent.

While it may seem silly to some, we love the idea of a special bed for your dog during the holidays. After all, you can never have too much Christmas cheer in our opinion.
15 Fabulously Festive Christmas Dog Beds
After scouring the interwebs, here are the 15 best Christmas dog beds we could find. The prices range from $9.59 up to $99.99+, with many options for small pups and a few for the biggest buddies.
Who knew Martha Stewart created Christmas dog beds? Apparently in addition to linens, baking supplies and other household items, she also offers pet supplies.
This is lucky for us because this dog bed is darn adorable. It's shaped like a holiday present and your dog gets to snuggle inside like a Christmas surprise.
At 20″ x 20″ x 16″, this bed is designed for dogs on the smaller size, so if you have a tiny tot, this is perfect.
They say Santa Clause is always watching to see if you've been bad or good, and that is very true with this bed. Pups cuddle up close to Santa in this warm, comfy bed.
The outside is made of a crimped velvet and the inside layer is a light cashmere for an ultra-soft feel. Your dog will be one spoiled pup with this bed!
Dogs need a good place to lounge after all the Christmas celebrations, and this cuddly bed is a great place to take a load off.
What we love about this design is that it's not the stereotypical Christmas red. Instead, it's green and white with just a touch of red. Your dog will be 'rockin around the Christmas tree with this bed.
Christmas dog beds don't get much cuter than this. We love this unique, one-of-a-kind chevron dog bed and matching stuffed bone pillow from Etsy.
The bed is handmade and you can choose from a small 24″ x 24″ version up to 40″ x 40″, which is great for those of us with extra large pups.
This sweet little set-up includes both a holiday-inspired dog house and a complementary detachable dog bed.
Made out of cotton and fleece, this dog bed is extra warm for those cold winter months. Your dog will be quite spoiled!

If you're looking for something more old-fashioned, this is your bed. The fabric looks like something found in your grandma's house, and who doesn't have fond memories of Christmas with the grandparents?
What we also like about this one is that it's made of eco-friendly materials like recycled plastic water bottles and other earth friendly compounds – but you'd never know it.
Sizes are available in small, medium and large, with indoor and outdoor options.
Christmas dog beds should be snuggly, warm and cheerful, and this one meets all three criteria!
Don't you want to jump in and snuggle up in this bed? This is the perfect way to get in the holiday spirit with your pup.

First off, how cute and snuggly is this dog house/bed? Second, why don't they make one for humans?
Available in small, medium and large options, this set is a fun gift for dogs of any size. When the weather gets chilly, they can borough in for a good night's sleep.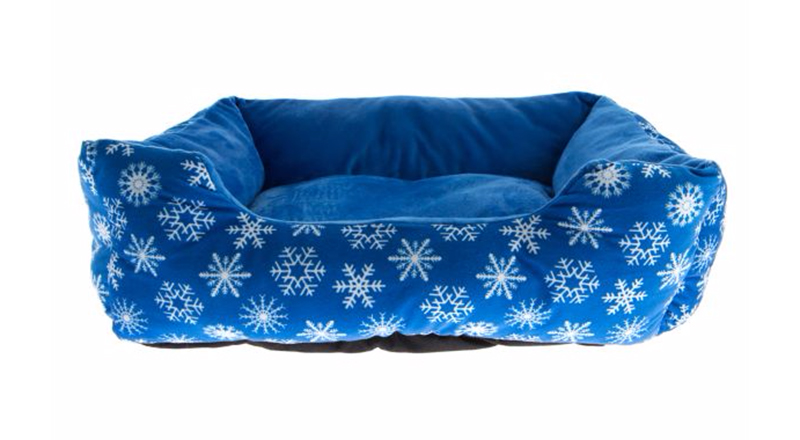 OK, now it's time to take a break from red and green and check out this wintery blue snowflake bed from Petsmart. We love it's both comfy and festive. No need to put it away once Christmas is over; this dog bed is perfect for all of the winter months.

If you're looking for Christmas dog beds and want something more subtle than a giant Santa or shimmering holiday trees, this is the way to go. Its beautiful pattern is a perfect way to get into the holiday spirit.
This warm, snuggly bed will make a perfect present for your favorite pup.

This plaid dog bed from Petco isn't technically a Christmas bed, but it sure looks like one.
At 40″ x 30″, it's big enough for almost any sized dog to lie down and sprawl out. Pups will want to sink right into this plush, fleece fabulousness.

At the opposite end of all these plush, warm Christmas dog beds is this simple Santa-inspired mat. It adds some festivity to your celebration, and with its lightweight design, you can roll it up and bring it with you anywhere you celebrate the holidays.
And at $9.59, it's by far the most affordable option, which means more money for puppy presents.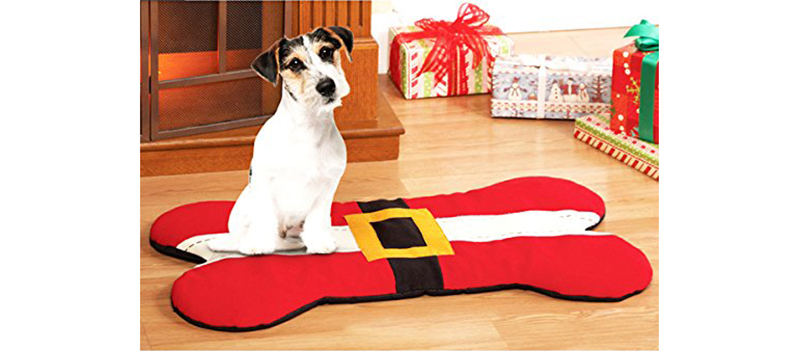 Here's another super plush bed for your pup. The red and green plaid just screams Christmas. And as an added bonus, your pup gets a stuffed bone pillow/toy.
Gosh, Martha Stewart is all about Christmas dog beds this year! And she does a good job. This warm, welcoming bed looks too good to pass up.
Another great thing is that it offers an option other than red or green but still has plenty of holiday spirit.
We have a special place in our hearts for XL-sized dogs and realize this list doesn't have many options for them. But don't despair – we've found a creative way to get them a bed for the holidays.
This Majestic pet bed comes in red and green (among other colors), so why not say it's your dog's Christmas bed? If anyone questions it, just say your dog likes a more simple, streamlined design.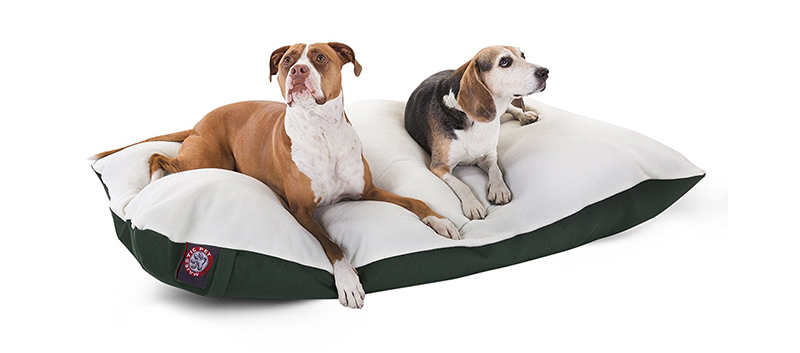 Christmas dog beds are definitely one of those things that are a "nice to have" versus "need to have," but if you love the holidays, this is a fun way to show your cheer and give your dog a special treat.
Check out more articles about: