13 DIY Dog Collar Ideas – Easy and Adorable!
Published:

Last updated:

by Jessi Larson Affiliate Disclosure: We hope you love the products we've recommended! As an Amazon Associate we earn a small share from qualifying purchases.
Does it seem like all the dog collars at the store are a little boring? You could shop there and buy a standard collar that everyone else has. Or instead, here's a fun idea: Create your own DIY dog collar that's completely unique to your pup!
We know what you may be thinking. "Don't I have to be super crafty to create a DIY dog collar?"
Hardly!
There are lots of options out there that you can create with little to no skills. We've gathered a number of projects you can start right away.
On the other hand, if you're a skilled sewer or crafter, the list includes several tutorials that are perfect for your more advanced skillset.
Below are 13 fabulous DIY dog collar ideas and easy tutorials that walk you through everything you need to know.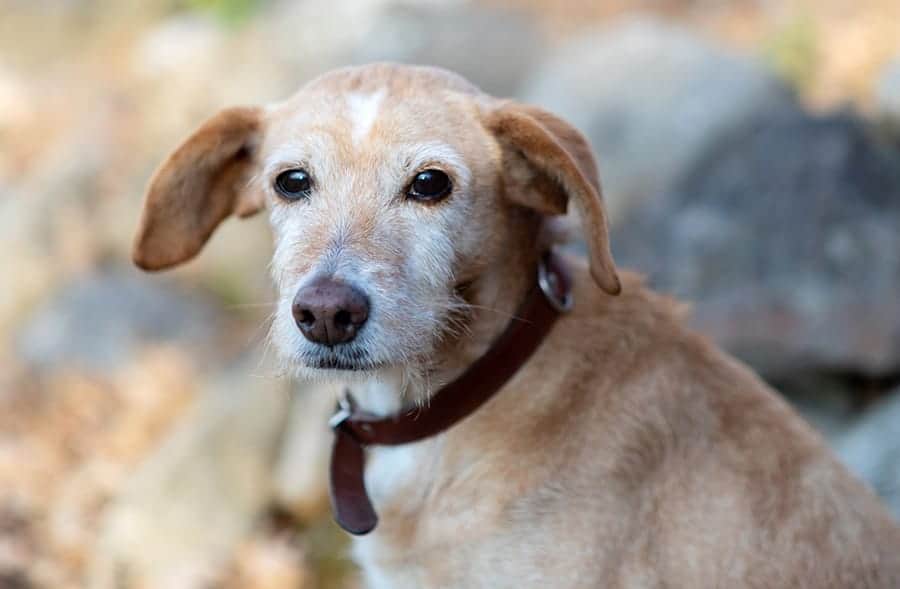 Top DIY Ideas
Are you looking for a basic DIY dog collar? Or a flashy fashion statement?
We've got ideas for all of the above and everything in between.
To help you determine which one is best for you and your dog, we've noted who the collar is suited for and the skill level needed to pull it off.
1. Standard DIY Dog Collar
This DIY dog collar style most closely resembles the ones sold in stores. By creating your own, however, you can use any fabric you'd like!
At traditional retailers, they need to stock designs that appeal to a wide variety of customers. As such, the collars for sale tend to be a bit more basic.
By creating your own, however, you can use any wild and crazy patterns you like.
This tutorial illustrates how you can take nylon webbing and cover it with fabric of your choice, then attach it to a welded d-ring and buckle as the final step.
The easy-to-understand guide shows you how to measure your dog's neck and cut materials to the appropriate size so the collar will be a perfect fit for your furbaby.
A great choice if: You've got a sewing machine and basic sewing skills and want to create a completely unique DIY dog collar.
Skill level: Medium
2. Paracord Dog Collar
This basic paracord DIY dog collar is oh-so easy. In fact, of all the ideas on our list, this is one of the most simple.
Paracord is a lightweight nylon rope that's considered a general-purpose utility cord. For our purposes, it makes a strong, versatile dog collar that can be customized to the size of any dog.
All you need is the paracord of your choosing, a d-ring and a buckle, and you're ready to go.
A great choice if: You like working with your hands and want an easy, straightforward project.
Skill level: Easy
3. Upcycled Dog Collar
Upcycling is a trendy term these days. It refers to the process of transforming unwanted materials or products into something of better quality.
With this DIY dog collar tutorial, you'll learn how to find an old belt of any style and turn it into a super trendy collar for your canine.
If you love shopping and are up for a creative challenge, this is the project for you.
(We should note that this type of collar works best for small and medium dogs who don't pull too much.)
A great choice if: You love to navigate thrift stores and want something more than a cookie-cutter collar.
Skill level: Easy
4. DIY Dog Collar with Webbing
For a basic but effective DIY dog collar, check out this tutorial that uses webbing and not much else.
Sure, it might not be as customizable as other options on this list, but you can still use whatever color and pattern you like for the webbing. (We love this "I Rescued My Human" pattern!)
And unlike other ideas that are best for more petite pups, this is great for dogs of all sizes, including those who tend to pull.
A great choice if: You like sewing and want a no-frills DIY dog collar that works for dogs of all sizes.
Skill level: Medium
5. Leather DIY Collar
Sturdy and stylish, leather dog collars create a classic look that is great for all breeds.
At first it might seem intimidating to create a leather DIY dog collar. In actuality, however, it's not as hard as it sounds.
The tutorial above shows you how to create a customized collar that is completely unique to your dog.
A great choice if: You like the look of leather and need a guide for how to work it.
Skill level: Medium
6. Serenity DIY Collar
Another creative DIY idea is this serenity collar. It utilizes different cords that are combined for a cool multi-color collar that's completely unique to your dog.
This is a great option if you want to create a unique dog collar without having to sew a thing.
And if you rocked at creating friendship bracelets back in the day, this is definitely the project for you!
A great choice if: You like intricate braiding and have patience. (It'll pay off as you work on this!)
Skill level: Medium
7. DIY Bohemian Collar
When you think of DIY dog collars, it might seem crazy to create one out of only thread. But once you watch this tutorial, it'll make perfect sense.
Simple to understand, the guide above shows you how to pick out several thread colors and weave them together for a colorful and creative collar.
This might not be the best choice for big dogs who like to pull. But if you have a daintier dog, you must check this out!
A great choice if: You have good dexterity and want to create a bohemian-style accessory for your smaller-sized dog.
Skill level: Medium
8. Fashionable DIY Dog Collar
Who said dog collars couldn't have a little extra flare?
This DIY dog collar adds a bandana-like attachment that can be completely customized for your canine. You can use whatever fabric and decorations you like.
A great choice if: You want a bigger canvas to express your creativity and like to dress your dog.
Skill level: Medium
9. DIY Jingle Bell Collar
Have you ever taken your dog outside at night and later couldn't find them in the dark? Or, have you ever gone for an off-leash hike only to lose your pup in the great outdoors?
With this easy DIY jingle bell collar, you'll never have that issue again. The bells constantly jingle so you'll know where your pup is at all times!
A great choice if: You need to know where your dog is without seeing them. Or you want a little festive flare for the holidays.
Skill level: Easy
10. DIY Dominant Dog Collar
If you have a dog that's extra large, extra strong, or both, you might scoff at some of the DIY dog collar ideas on this list. (We have a 110-lb Labrador Retriever who's all muscle, so I totally get this!)
Fortunately, there's a DIY collar for that type of dog. And best of all, it's the easiest tutorial on the list.
A great choice if: You have an extra strong canine who needs a collar that can keep up.
Skill level: Easy
11. DIY Collar from Shoe Laces
If you're a fan of the upcycle movement, here is another idea for you.
Got old shoe laces lying around? Turn them into a dog collar!
You could also buy new ones so you can pick out your preferred colors.
This tutorial shows you how to weave them into a super sweet dog collar that is perfect for smaller pups.
A great choice if: You have a dog that's on the smaller side and like working with your hands.
Skill level: Easy
12. Decorative DIY Collar
Next up is a decorative DIY collar that can be as subtle or as splashy as you'd like.
The base for this DIY dog collar is a stainless steal chain. You start by picking out one that is strong and sturdy and fits your dog's neck well.
Next is the fun part. You'll weave in trimmings to design a totally customize collar not found in any store.
A great choice if: You have a flare for creating crafty things and want to express yourself through a DIY dog collar.
Skill level: Medium
13. DIY Rhinestone Collar
Last – but certainly not least! – is a fantastically flashy DIY dog collar that adds flare to your furbaby.
One word sums up this collar: Rhinestones.
They're front and center in this super simple design. All you need is a rhinestone roll and a few other materials.
Not all dogs can pull off this look. But if you have a sweet girly dog or an animal with attitude, this is a fun and flirty idea.
A great choice if: You want an extravagant collar that's incredibly easy to make and is for decorative purposes only.
Skill level: Easy
Why Make a DIY Dog Collar?
When it's so easy to go to a store and buy a dog collar, why would you create your own? That's a question people may ask when you say you're creating a DIY dog collar.
Turns out there are many reasons to make a collar from scratch:
It's a fun project!
Perhaps the most popular reason is that it's a fun thing to do. Both seasoned and aspiring DIYers will enjoy creating a unique collar for their canine.

Collars need to be replaced often.
Puppies grow at a rapid pace. As they get bigger, they need a collar to fit their new size. Collars can also get torn or soiled quickly if you have an active dog.

You save money.
Dog collars don't always come cheap. Especially the decorated, high-end collars. With a DIY dog collar, you can create your own for a fraction of the price.
Safety Tips
A collar keeps your dog safe and secure in more than one way. It allows you to quickly grab your dog when needed and attaches securely to a leash or cable tie. You can also add emergency contact info to a collar in case they get lost.
With how important a collar is, you'll definitely want to ask yourself these questions after making a DIY version:
Does it fit? Double check to make sure the collar fits. It should be snug but not too tight.

Is it strong enough? Make sure it's up to the task of securely holding on to your dog.

Is your dog comfortable? Lastly, watch how your dog reacts to it. If they don't notice it's on, that's a good sign.
Want more DIY dog projects? Check out these 10 DIY dog toy ideas that are super easy to make.