Welcome to the exciting world of Jack Russell Terrier names! Choosing the perfect name for your new furry friend is essential, and we're here to help. In this post, we'll explore a diverse range of options to help you find inspiration and make an informed choice.
Whether you're drawn to classic and timeless names or prefer something quirky and fun, we've got you covered. From famous Jack Russells that have left an indelible mark in the world to creative and playful monikers perfect for this puppy, we'll provide insights and suggestions to ensure your Jack Russell Terrier has a name that perfectly suits their individuality.
To start, you could go with a name drawn directly from the breed:
But that's just the tip of the iceberg. Get ready for even more great Jack Russell Terrier names.
Popular Male Jack Russell Terrier Names
When naming your male Jack Russell Terrier dog, there's a world of possibilities that cater to their spirited and playful nature. Here's a collection of the most popular dog names right now that captivates the hearts of Jack Russell enthusiasts.
Cooper
Max
Charlie
Buddy
Teddy
Rocky
Louie
Sparky
Ace
Scout
Duke
Bear
Tucker
Oliver
Toby
Finn
Oscar
Milo
Leo
Jasper
Riley
Winston
Murphy
Dexter
Zeus
Rusty
Simba
Harley
Gus
Hank
Baxter
Bruno
Sammy
Hunter
Cody
Brody
Henry
Archie
Apollo
Rocco
Marley
Chester
Chance
Bailey
Brady
Chase
Finnegan
Cash
Roscoe
Boomer
Lou
Ollie
Zeke
Ziggy
Jax
Ranger
Kobe
Gizmo
Sam
Colby
Popular Female Jack Russell Terrier Names
Next, let's celebrate the vibrant and charming female Jack Russell Terriers by exploring a collection of popular names. From elegant and sophisticated options to delightful and playful choices, these popular female dog names could be the right choice for your canine companion.
Bella
Luna
Lucy
Daisy
Lily
Molly
Lola
Sadie
Pepper
Stella
Chloe
Coco
Penny
Ruby
Rosie
Zoey
Ellie
Mia
Abby
Emma
Ginger
Sophie
Bailey
Olive
Gracie
Willow
Harper
Nala
Layla
Piper
Athena
Maya
Princess
Charlie
Winnie
Izzy
Hazel
Roxy
Sasha
Lady
Millie
Annie
Callie
Dixie
Penelope
Josie
Phoebe
Marley
Dolly
Maggie
Names Inspired by Size
Another option is to focus on your furry friend's size. These small bundles of energy deserve names that embrace their compact stature while highlighting their big personalities. The following names are tailor-made for these lovable and lively small dogs.
Baby
Shorty
Junior
Smalley
Peanut
Smalls
Bitty
Squirt
Teeny
Tiny
Mini
Minnie
Peewee
Munchkin
Nugget
Button
Elf
Sprite
Hobbit
Jellybean
Pebbles
Pixie
Sprout
Related: More names for small dogs
Energetic Jack Russell Names
For the spirited and energetic Jack Russell Terriers, finding name ideas that match their liveliness is another excellent choice. These high-energy names perfectly encapsulate the enthusiasm and zest for life that defines this remarkable breed.
Bolt
Dash
Turbo
Spark
Rocket
Zippy
Jolt
Blitz
Zoom
Flash
Dynamo
Bounce
Racer
Sprint
Tango
Zipper
Frisky
Jinx
Skipper
Speedy
Taz
Flip
Rally
Skip
Tigger
Buzz
Jive
Peppy
Whiz
Zappy
Jazzie
Famous Jack Russell Terrier Names
You can also draw inspiration from the canine stars who have made a name for themselves in TV and movies. Let's glimpse celebrity Jack Russells and unlock a wealth of naming possibilities.
Wishbone – In the TV show "Wishbone," this pup captured viewers' hearts as a literary-loving Jack Russell who embarked on exciting adventures, often retelling classic stories.
Eddie – From the TV show "Frasier," Eddie Crane is known for his role as a clever and charismatic canine companion.
Moose – The name of the dog who played Eddie Crane in "Frasier."
Milo – In the movie "The Mask," Milo is the mischievous sidekick to Jim Carrey's character.
Jack – The scene-stealing Jack Russell in the award-winning silent film "The Artist."
Uggie – The real name of the dog who played Jack in "The Artist."
Nipper – An iconic classic figure through his appearance in the His Master's Voice (HMV) logo, with a distinctive pose listening to a phonograph in the classic ad.
Funny Ideas
Prepare to unleash some laughter with our collection of funny names for Jack Russell Terriers. In this section, we'll explore witty, whimsical, and clever monikers that will bring a smile to your face and perfectly complement the playful nature of these charismatic canines.
Taco
Bubba
Waldo
Brutus
Nacho
Clifford
Mac
Rascal
Porkchop
Tootsie
Bacon
Burrito
Flo
Goliath
Mouse
Myrtle
Stinky
Ursula
Frodo
Fabio
Meatball
Homer
Dogbert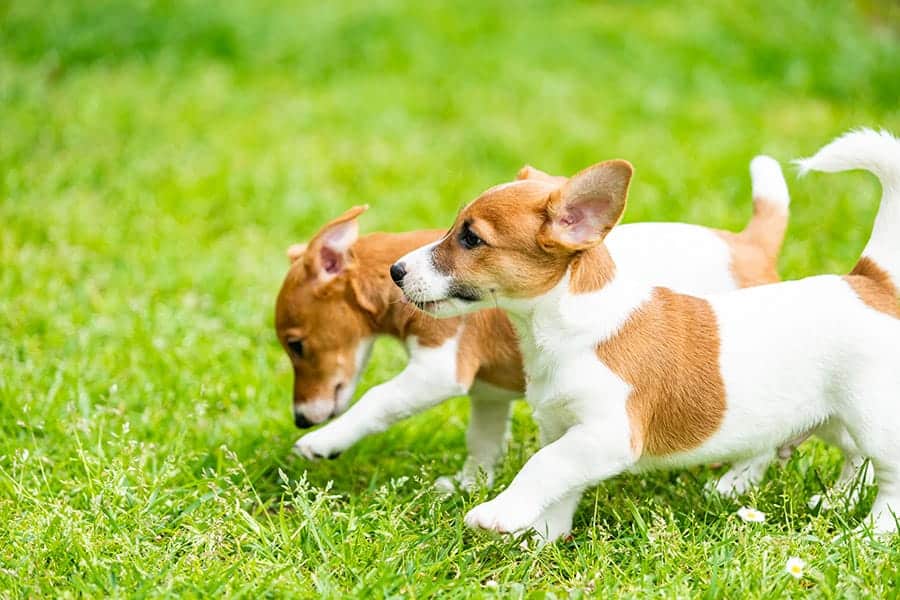 More Jack Russell Terrier Names
Here are additional ideas if you need even more inspiration for naming your Jack Russell Terrier.
Fido
Rex
Remy
Maverick
Freya
Juniper
Penny
Walter
Arthur
Hazel
Mabel
Murray
Rufus
Ernie
Violet
Florence
Sam
Reese
Parker
Quinn
Oreo
Morgan
Jordan
Patches
Dot
Domino
Snowball
Jinx
Freckles
Final Thoughts: Jack Russell Terrier Names
As we conclude this exploration of Jack Russell Terrier names, we hope you've found inspiration and guidance in choosing the perfect name for your energetic and lovable companion. Naming your Jack Russell is an exciting endeavor, as it sets the stage for a lifelong bond and reflects their individuality.
Remember, the perfect name resonates with you and your Jack Russell Terrier. Consider their personality, appearance, and quirks when making your selection.
You may find inspiration in famous Jack Russells, drawing from their memorable roles and capturing the essence of their fame. Alternatively, you could be drawn to names that reflect their small size or boundless energy.
Choosing a name that you and your furry friend will love for years to come is crucial. Take your time, involve the whole family if applicable, and consider trying out different names to see which one is the perfect fit.
Finally, remember that a name is just the beginning of your journey together. Building a solid bond, providing love and care, and nurturing your Jack Russell Terrier's physical and mental well-being is equally important. Don't forget to celebrate the joy and companionship of having a Jack Russell Terrier by your side!
Whether you settle on a classic name that has stood the test of time or opt for a unique and creative choice, we wish you and your Jack Russell dog a lifetime of adventures, laughter, and unconditional love. Happy naming!
Related Articles
View Your Saved Names