Best Indoor Dog House – Our Top 15 Picks Revealed
Published:

Last updated:

by Jessi Larson Affiliate Disclosure: We hope you love the products we've recommended! As an Amazon Associate we earn a small share from qualifying purchases.
An indoor dog house is a great way to provide a comfortable getaway for your dog right inside your very own home. After all, dogs love a cozy space they can call their own.
With so many options out there, it can seem daunting to pick the best indoor dog house for your pup's needs. Where do you begin?
Don't worry, we're here to help!
We've rounded up the top indoor dog house picks and broken it down by the best choice for several different needs.
Best Indoor Dog House Picks
Quality is of utmost importance when determining the best indoor dog houses. We looked for products made of high-quality materials that stand the test of time.
User reviews were also important. We read what dog owners were saying about the products and only included the ones with the highest marks.
That being said, we know not every indoor dog house is a good fit for everyone. Some are better for specific needs. That's why we've broken down the list into different categories.
Coolest Design:
This indoor dog house is like a kennel and playhouse all in one, which is why it gets our vote for the coolest design.
The bottom serves as a comfy space for dogs to curl up in and relax. But if they have extra energy, they can run up and down the stairs and hang out on the balcony above.
When selecting an indoor dog house, you want it to blend into the design of your home. Fortunately, the gray body and white trim creates a clean aesthetic that blends well with most decors.
And last but not least, even though the house design looks a bit complicated, the assembly is actually straightforward simple. Since all the holes are pre-drilled and hardware is included, all you need is about 30 minutes for installation.
Pros:
Provides space for a dog to relax, sleep and play
A great choice for smaller dogs
Installation is fast and straightforward
100% natural fir wood is safe and non-toxic
Cons:
Not for larger dogs
Stairs may be too steep for some dogs
Can be wobbly at times
Runners up:
If you like the design above but want a different color, you can go with the reddish wood featured in this indoor dog house.
This is a good choice if your house has warmer tones, and gray and white just won't work.
Another option with an awesome design is this wooden dog house with a porch and fence. It looks like a real cabin!
The inside offers a safe space where your dog can curl up and rest. But if they're curious and want to know what's going on, they can simply step outside onto the porch to see what's going on.
Pros:
Made of high quality fir wood
A great choice for small and medium dogs
Assembly is quick and easy
The design is quaint and charming
Cons:
Doesn't fit larger dogs
The floor can wobble at times
Best Home Decor:
Don't want your indoor dog house to stick out like a sore thumb? It doesn't have to! Instead, you can buy one that also serves as part of your home decor.
Our favorite option is the wood crate indoor dog house. It serves as an end table for you and as a house for your pup.
The house is available in espresso, white, black or gray and comes in a number of different sizes, so you can pick out one that fits both your dog and your decor.
And even though it functions as a piece a furniture, it offers lots of features for your furbaby, like dual, lockable doors and open slats for ample airflow.
Pros:
Offers a sleek and aesthetic design
Accommodates many different dog sizes
Seamlessly blends into your home decor
Saves you space
Cons:
Not a great option if you have a destructive dog since you don't want to damage your home furniture
The price is at the higher end
Here's another option for an indoor dog house that also functions as furniture.
This wood dog house is a great option if you want an accent table that also serves as a safe and secure space for your furbaby.
Best of all, the foldable design makes it easy to collapse and carry this crate to another part of the house if you choose.
Pros:
Made from sturdy, safe and non-toxic spruce wood
Top can be opened if you want to create an open air space for your pup
Detachable wire door ensures your dog's safety
A great choice for small and medium sized dogs
Cons:
Doesn't fit larger dogs
Takes up a lot of space
A table isn't the only indoor dog house that blends into your home. Another option is an ottoman dog house.
With this pet home, you can curl up on the couch and rest your feet on the top of the ottoman while your dog is curled up and cozy below.
Pros:
Available in dozens of colors and many different sizes
Saves space and integrates seamlessly into your home
Offers a cozy, snuggly space for smaller dogs
Easy to assemble and store
Cons:
Doesn't fit larger dogs
Material is on the thinner side
Not a great choice for more destructive dogs
Best Portable Indoor Dog House:
You may want the option to move the dog house to different parts of your home, depending on your needs.
That is hard to do with a dog houses that is larger, heavier or serves as a piece of furniture. But with portable indoor dog houses, you can pick them up and move them anywhere you need to, quickly and easily.
We like this plastic dog house with a skylight. As you can see, the design is cute and charming. And while the house is sturdy and durable, it's also lightweight so you can pick it up without any problem.
Pros:
Creates a cozy, safe space for a dog anywhere you need it
Easy to carry and transport
Edges are rounded and will not hurt pets
Installation is quick and easy
Cons:
Works for only small and medium sized dogs
Not a good choice if you need a more permanent installation
Runners up: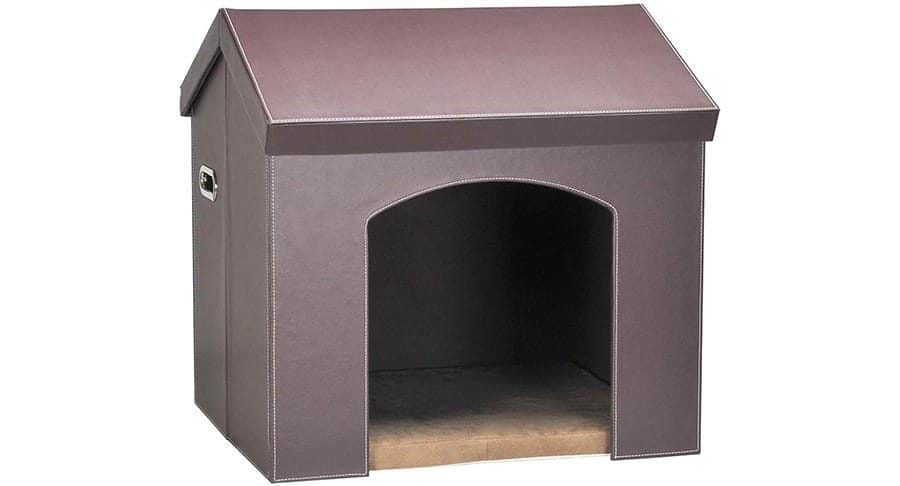 For a sleeker aesthetic, this collapsible faux leather pet house is a great choice.
Accommodating dogs up to 21″, the house quickly pops up to create an enclosed space. You can easily fold it up and take it anywhere you need to.
As an added benefit, the roof opens up for a storage space for dog toys, leashes and other supplies.
Pros:
Provides a safe, secure haven for your dog anywhere you need it
Leather design blends into any decor
Set-up takes only seconds
Is easy to clean and maintain
Cons:
Doesn't fit larger dogs
The included sleeping pad isn't as soft as you'd expect
How cozy does this dog house look? It's definitely the softest, most snuggly indoor dog house on this list!
The house assembles and disassembles easily, allowing you to bring their home anywhere you need it. Your pup will appreciate a consistent space even when they're not in a consistent location.
Another benefit: You can easily clean off dirt and stains by placing the house into the washing machine on a gentle cycle.
Pros:
Available in three different color schemes
Features premium materials and quality construction
All the components are machine washable
Cons:
Only accommodates small dogs
The roof can be difficult to zip according to some reviewers
Not a great option for destructive dogs
Best for Large Dogs
Does it seem like indoor dog houses are all geared for small-sized pups? It's true that there are way more options for pint-size pets. And it makes sense since they take up much less space.
But that doesn't mean big dogs don't desire an indoor dog house!
The best option we've found for big pups is the Igloo dog house. It has sizes for dogs up to 175 lbs. (We're especially a fan of this one since we have a 110-lb yellow lab!)
The construction is sturdy and strong so it'll stand up to the wear and tear from more full-sized furbabies.
Pros:
Offers multiple sizes to accommodate dogs from 25-175 lbs
Roof ventilation system circulates fresh air
Includes Microban Antimicrobial Product Protection that helps prevent the growth of bacteria
Cons:
Not designed for dogs under 25 lbs
The design is not as stylish as others on the list
Other Top Indoor Dog Houses
We love this fun spin on the traditional dog house design. After all, who said dog houses had to have four walls and a roof?
Made of 100% cotton canvas attached to pine poles, this pet teepee provides a private, comfortable space for small and medium sized canines.
You can transport this indoor dog house anywhere you want it. And if it gets stained, simply throw the canvas in the washing machine.
This indoor dog house looks like it could be featured in a home design magazine.
The design is modern and elegant, the natural pine fits any decor, and the lush pillow looks incredibly comfy.
If you want a stylish yet functional refuge for your pup, this could be the one for you.
This plastic dog house is another option. Made of strong plastic, this house is especially strong and durable, making it a great choice for dogs who like to chew and scratch.
Like the name implies, the house provides a cozy and secure space for small and medium dogs.
As an added bonus, the dog house is easy to assemble and the roof disassembles for easy cleaning.
A country lodge sounds so charming, doesn't it? This is the perfect space for your pup to snuggle up in and escape from the world.
The house is ideal for dogs 60-75 lbs but can fit smaller pups if you add pillows and blankets to make the space cozier.
Our final recommendation is this cute, customizable indoor dog house.
Made of 100% solid wood, this house is available in three different styles and comes in medium, large and extra large sizes.
And if your dog has occasional accidents, don't fret – the floor is protected by rubberized coating to minimize liquid absorption and allows for easy clean up.
Buyer's Guide to Selecting an Indoor Dog House
To pick the best indoor dog house for your needs, it's important to review the following criteria. This will help ensure the house is the right fit for both you and your pup.
Size – There's nothing worse than buying a product for your dog only to find out it's much too small or too big. Before purchasing an indoor dog house, check the dimensions and size limit.
Construction – What is the house made out of? Certain dogs will need a house made out of much more robust materials. Then again, if you want to transport the house to different locations, it'll need to be lighter and more agile.
Purpose – Why do you need an indoor dog house? Will it serve as a permanent kennel for your dog? Or is it simply an area your dog can escape to when need be?
Also, you should determine if you want it to integrate with your home decor or if you prefer the traditional dog house look.
Assembly – Another thing to think about is assembly. Some indoor dog houses require quite a bit of construction, while others are ready to go out of the box. This may also help guide your decision.
Price – And finally, price is always a factor. Dog houses run the gamut from $25 to $250, depending on your needs. No doubt this will play into your decision.
Why Do You Need an Indoor Dog House?
Some people will ask why you need an indoor dog house in the first place. Doesn't your home serve that purpose?
There are many reasons to get an indoor dog house. These include:
Safe space – The house serves as a cozy safe space for your dog. This is an especially good idea if your dog is on the more skittish side and if you have a lot of action in your home.
House training – An indoor dog house can also help with potty training. Dogs don't like to soil their living areas, so this is a way to support your house training efforts.
Rest area – Your dog can also use the house as a place to curl up and take a nap. Add a fluffy dog bed or pillows and your pup will be in heaven.