Top 24 Funny Dog Halloween Costumes
Last updated:

by Jessi Larson Affiliate Disclosure: We hope you love the products we've recommended! As an Amazon Associate we earn a small share from qualifying purchases.
Halloween is fast approaching, but don't worry – there's still time to find funny dog Halloween costumes. 
Dressing your dog up is humorous no matter what, but it's even better when you pick a funny, entertaining outfit.
We scoured the internet and found the top 20 funny dog Halloween costumes. So get ready to laugh out loud when you see these adorable ensembles.
Funny Dog Halloween Costumes
Harry Potter is one of the most beloved and recognizable characters in the world. When it comes to funny dog Halloween costumes, there is something so cute and so humorous about dressing up a dog in Harry's iconic cape and wire-rim glasses.
If you really want to have some fun, you could dress up as one of Harry's friends, like Hermione Granger or Ron Weasley.
(Do you love Harry Potter? Check out our ultimate list of Harry Potter dog names.)
Santa Claus is coming to town…on the back of a dog!
We love the spirit and creativity of this costume. It's also very comfortable for your dog to wear.
And as a bonus, your dog can wear this costume at Christmas time as well. So you'll definitely get your money's worth with this one.
This could be the perfect costume for your canine if you're a fan of the Ghostbusters films.
The iconic jumpsuit will bring back fond memories for those who loved the classic movie. And let's face it, your pup will look doggone adorable in it.
4. Banana 
This Halloween, your dog will be the top banana in this banana costume.
Bright, cheerful, and so very funny, this costume will be a surefire hit on Halloween.
We cannot get enough of this costume. Waldo is such an iconic character, and this does a great job of translating the look into a perfect costume for canines.
Bonus: How fun would it be to dress up as Wenda to complement your dog's look?
An excellent option for smaller dogs, this doctor suit will garner lots of laughs on Halloween.
If your dog is fussy about wearing costumes, then you should consider this. It's easy to put on and will stay on throughout the night.
How awesome is this lobster costume? There's something about it that just brings a smile to your face. 
When looking for funny dog Halloween costumes, a lobster probably wasn't on your radar. But once you see this ensemble, its charm and cuteness will win you over.
It's so wrong; it may just be right. If you're like us, you haven't thought about Madonna and the cone bra for years. But now that you see it in dog form, it may be time to resurrect this legendary look.
This costume will likely shock and delight in the best possible way.
Who thinks these things up? We would never have thought to put our dog in a UPS uniform. But when you see it, it feels so right.
This costume is a good option for dogs who don't want something covering their entire body. As you can see, it only goes around their neck and front legs.
Arrrrrr you looking for an adorable dog costume that's also funny? This puppy pirate outfit could do the trick.
Like a few of the other costumes noted above, this one makes it look like your dog is walking on two legs, which is always hilarious.
And then there's the hook hand. We can't get enough of this. It's one of the top funny dog Halloween costumes out there!
This costume is goofy and slightly inappropriate. But on the plus side, it's guaranteed to get laughs, and, thinking practically, there's not that much material to it, which means your dog is more likely to keep it on throughout the night.
When it comes to funny dog Halloween costumes, this one checks all the boxes.
There aren't many costumes we found that are hilarious and tough all at once, but this one fits the bill. This dino dog costume is cute and entertaining.
If you have a sweet little dog, how much fun would it be to dress them up as a fierce (but cute) predator? The juxtaposition is magic and will earn you lots of laughs.
Hot diggity, this is a cute costume. We love the straightforward simplicity of this get-up. It's goofy and lots of fun.
Funny dog Halloween costumes don't get much better than this!
For many of us, fancy coffee drinks are a significant passion. This costume celebrates the love of lattes in a perfect pup-sized costume.
If you're a latte lover, this could be the costume for you.
Be honest, you smiled and maybe even laughed a little when you saw this, didn't you?
It totally looks like a shark is taking a bit out of the cute little dog. But don't worry; your dog will be perfectly safe in this shark-tastic costume.
It's Pepe Le Pup! Your dog will be the life of the party in this fun, odor-free costume.
Best of all, the design is also warm for those cold autumn nights. After all, funny dog Halloween costumes can be entertaining and practical all at the same time.
This. Is. Amazing. If you're looking for a unique, entertaining, hilarious costume, look no further.
The hat certainly complements the look, but if your dog isn't up for wearing it, the costume still works without it.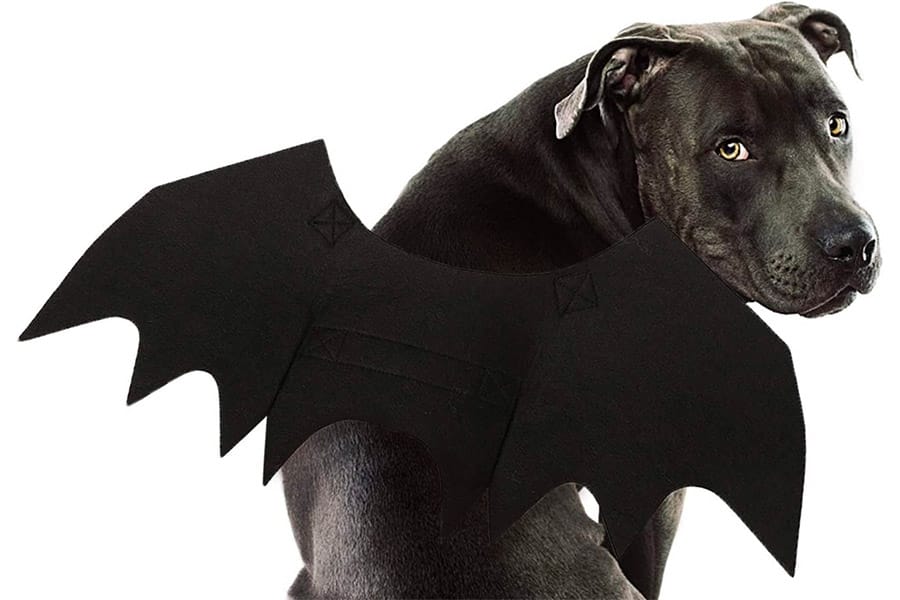 These dog bat wings are a great choice if you want a fun, spooky costume that won't involve putting too much clothing on your pup. These are available in five different sizes to fit any dog.
This unique costume is cute, cuddly, and funny all at once. It looks like your dog is doing some heavy pumpkin lifting, but that's the beauty of the mind-bending design.
Another bonus: It's nice and warm for dogs who are freeze-furbabies.
And last but certainly not least on our list of funny dog Halloween costumes is this goofy squirrel outfit.
Dogs love to chase squirrels but never seem to make much progress, so if you can't beat 'em, join 'em, as they say.
This is an excellent costume for your pup to make them look like a ferocious beast! This one also comes in brown/black to compliment your dogs coat.
This costume really gave us a chuckle. This cowboy riding your pup will turn heads and get laughs!
For the superhero (superheroine?) fan in you, check out this awesome Wonder Woman dog costume that's sure to be a hit!
A great dog-themed holy hound costume. That looks very proper and very cute.
Funny Dog Halloween Costumes:
A Final Note
As responsible dog owners, it wouldn't be right if we didn't add a disclaimer.
No matter how fun the costume is, if your dog isn't having it – because they don't like wearing clothes, it scares them, whatever the reason – don't force it.
But, if your dog doesn't mind dressing up and you have an amazing costume, spread the laughs!
Bonus: Fun Ways to Celebrate Halloween With Your Dog
Now that you've scoured the top funny dog Halloween costumes, here are some great ideas for including your pup in the holiday!
Help to hand out candy
This isn't for every dog. But some prefer to be in the know and see what's going on at the door versus sequestered away. You can enlist the "help" of your dog to pass out candy to trick-or-treaters.
How does this work? Well, you can either have your dog on a leash next to you. Or, if you have a screen door, you can drop the glass down and hand out candy if possible.
If that doesn't work, open the door slightly so your dog can't wiggle out.
Having your dog close to the action is fun for you and lets the kiddos see your cute furball. Just make sure your dog has the right temperament for this as well as a collar with emergency contact info just in case they get out.
Go to a pumpkin patch
Many local orchards allow dogs, as long as they are well-behaved and on a leash. Check local listings and see if there is a pumpkin patch in your area where you can bring your pup.
It'd be such a fun way to include your dog in the fall festivities and enjoy a lovely autumn day outside together.
Host a pup-friendly party
If you're having people over on Halloween, why not invite their dogs? That way, the poor pups don't have to sit at home alone while there is lots of commotion and confusion outside.
It's a win-win. The dogs can play together and keep each other entertained, all under the watchful eye of pup parents.
Find local activities
Check out your local newspaper or community social media groups to see if any fun fall activities are going on where you can bring your dog.
Play in the leaves
In many regions, October means changing seasons and falling leaves everywhere. If you own a home, you know the struggle to keep up with raking.
How can you make this chore a little more fun? Include your four-legged friends!
This may set your progress back a little bit, but it's so much fun to invite your dog out to play with you in the piles of leaves. The joy on their face is so heart-warming! And it'll give you added energy to keep going with your fall chores.
Participate in a dog costume contest or a pet parade
Many communities now hold pet parades where residents bring their dressed-up dogs and they walk together in a parade. How freaking adorable is that?
Or you can also find local dog costume contests. Pup parents bring their furballs together for the chance to take home the award for best costume. And honestly, while it is fantastic to place in a competition, the real fun is to see all the adorable dogs together and watch your dog having such a good time.
Enjoy a fall getaway
Another fun way to celebrate the season is with a fall getaway that includes your pup.
Head over to Bring Fido, a fantastic website that lists pet-friendly hotels, resorts, restaurants, and more, and see if you can find any cool ideas for a beautiful fall vacation with your furball.
Treat your dog to a pet hotel stay
Let's face it, for some dogs, Halloween is a terrifying time. Kids are running up and down the streets, yelling and ringing doorbells. Strangers in your yard. Spooky decorations. Crazy costumes.
The best way for your dog to ring in the holiday may be far away, in the comfort of a doggy daycare or pet hotel. They can romp around, blissfully unaware of the surrounding chaos.
This may be precisely what they need. And even though they're away from home, you can still dress them in a funny costume to celebrate the holiday!
Funny Dog Halloween Costumes: Which One is Your Favorite?
Of all the funny dog Halloween costumes on our list, which one is your favorite?
Let us know in the comments below. And if you have other ideas for funny dog Halloween costumes, share that too.