27 Dog Best Friend Quotes That Perfectly Sum Up Your Relationship
Published:
Last updated:
by Jessi Larson
Dog best friend quotes aren't easy to find. Which is surprising considering that almost anyone with a dog will tell you how close they are with their pup.
After all, they don't call dogs "man's best friend" for nothing.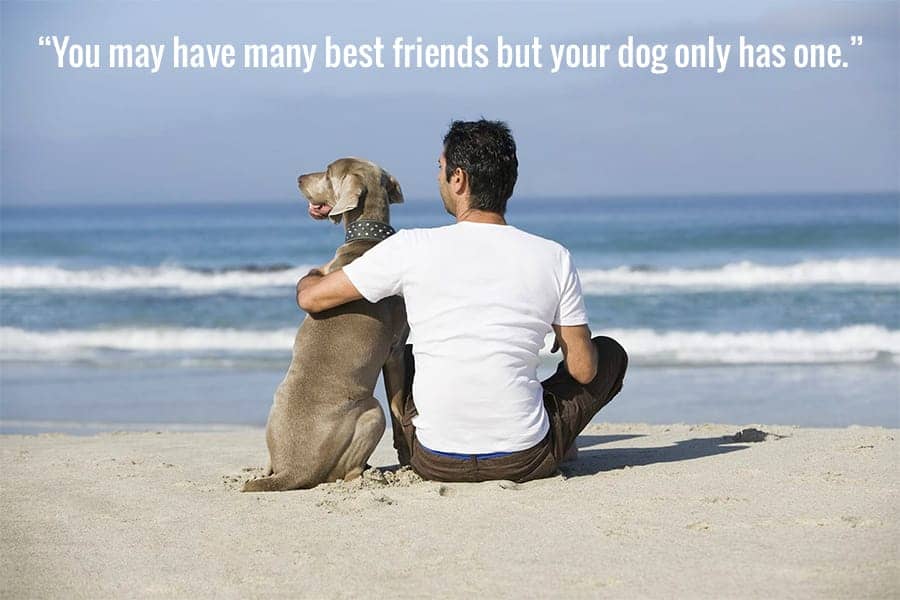 Ask any pup parent and they will tell you how much a dog can sense emotionally. Our furry friends know when we're feeling sad or scared, happy or joyful, and will react accordingly. Every day, they're by our sides serving as a faithful companion and steadfast friend.
To sum up this relationship, we looked for dog best friend quotes that reflect this beautiful partnership. Here are 27 great quotes that illustrate how our relationship isn't just owner/pet – it's a deep friendship.
Dog Best Friend Quotes – Sayings We Love
Not all great quotes have an author. Some insightful sayings are simply anonymous.
We consider these six sayings to be awesome dog best friend quotes.
1. "A true friend leaves paw prints on your heart."
How true is this? Anyone who has had a dog will tell you that they will always have a special place in their heart for their furry friend, even decades after they're passing.
2. "A dog will be your best friend no matter what. Even if your human friends aren't."
Couldn't agree more. Dogs are forever faithful to their owners and will be there no matter what.
3. "You may have many best friends but your dog only has one."
You are the light of your dog's life. They look to you as their very best friend. How cool is that?
4. "A best friend is someone who loves you when you forget to love yourself."
At your worst, your dog will still love you unconditionally, even when you don't feel worthy of it.
5. "If puppies could talk, I would never even try to make human friends."
First off, how cool would that be if your dog could talk? And secondly, how much more meaningful would that make your friendship?!
6. "Whoever said diamonds are a girl's best friend never owned a dog."
Diamonds might be forever, but so is the love and many blessings of having a dog in your life.
Dog Best Friend Quotes – Famous Insights Into Furry Friendship
Many famous people throughout history, including authors, actors, artists and more, have commented on the special relationship we have with dogs. These following quotes reflect on the nature of having a dog and why it creates such a beautiful friendship.
7. "Animals are such agreeable friends. They ask no questions, they pass no criticisms." ― George Elliot
8. "To his dog, every man is Napoleon; hence the constant popularity of dogs." ― Aldous Huxley
9. "No one appreciates the very special genius of your conversation as the dog does." ― Christopher Morley
10. "A dog is the only thing on earth that loves you more than he loves himself." ― Josh Billings
Dog Best Friend Quotes – The Joy of Life with a Dog
Dogs provide so much love and happiness, and in the process, make our lives better. For pup parents, it's plain and simple.
After reading these quotes, it's easy to understand why many humans consider their dog (or dogs) to be their best friend.
11. "A person who has never owned a dog has missed a wonderful part of life." ― Bob Barker
12. "The world would be a nicer place if everyone had the ability to love as unconditionally as a dog." ― M.K. Clinton
13. "Happiness is a warm puppy." ― Charles Schultz
14. "Dogs are not our whole life, but they make our lives whole."— Roger Caras
15. "I think dogs are the most amazing creatures; they give unconditional love. For me, they are the role model for being alive." — Gilda Radner
16. "Once you have had a wonderful dog, a life without one, is a life diminished." ― Dean Koontz
17. "Until one has loved an animal a part of one's soul remains unawakened." ― Anatole France
Other Great Dog Best Friend Quotes
Any finally, here are other great quotes by insightful authors and entertainers that will no doubt solidify the love and friendship of a dog.
18. "When the Man waked up he said, 'What is Wild Dog doing here?' And the Woman said, 'His name is not Wild Dog any more, but the First Friend, because he will be our friend for always and always and always.' " ― Rudyard Kipling
19. "When an eighty-five pound mammal licks your tears away, then tries to sit on your lap, it's hard to feel sad." ― Kristan Higgins
20. "Dogs love their friends and bite their enemies, quite unlike people, who are incapable of pure love and always have to mix love and hate." ― Sigmund Freud
21. "Some of my best leading men have been dogs and horses." ― Elizabeth Taylor
22. "Such short little lives our pets have to spend with us, and they spend most of it waiting for us to come home each day." ― John Grogan
23. "You can usually tell that a man is good if he has a dog who loves him." ― W. Bruce Cameron
24. "It is amazing how much love and laughter they bring into our lives and even how much closer we become with each other because of them." ― John Grogan
25. "Dogs have given us their absolute all. We are the center of their universe. We are the focus of their love and faith and trust. They serve us in return for scraps. It is without a doubt the best deal man has ever made." ― Roger A. Caras
26. "Love – that which biologists, nervous about being misunderstood, call 'attachment '- fuels the bond between dog and master or mistress." ― John Bradshaw
27. "The greatest pleasure of a dog is that you may make a fool of yourself with him and not only will he not scold you, but he will make a fool of himself too." — Samuel Butle
For more dog quotes be sure to check out our funny dog quotes or our inspirational pet loss quotes.
Check out more articles about:
Fun