Best Toys for Golden Retrievers – Top 10 Picks
Published:

Last updated:

by Jessi Larson Affiliate Disclosure: We hope you love the products we've recommended! As an Amazon Associate we earn a small share from qualifying purchases.
If you have a Golden Retriever, then you know that they're one of the most loving dogs in the world. They're also very high energy, which is why you're likely looking for the best toys for Golden Retrievers.
Dog toys are a great way to help your pup expel energy and get the physical and mental stimulation they need.
But with so many options, what are the best toys for Golden Retrievers?
Don't worry, we have you covered. Let's walk through our top 10 picks for this friendly furball and discover the pros and cons of each one.

Best Toys for Golden Retrievers – Our Top 10 Picks
#1) Bark Super Chewer Box
A monthly subscription box with toys and treats for big dogs who are extra tough on their toys
Pros
Fun way to try new toys
Toys are specifically designed for bigger dogs

Free shipping and replacement of broken toys
Cons
Reoccurring monthly expense
If you feel like you just can't do enough to keep your Golden busy and occupied, look no further than the Super Chewer box. It's a monthly subscription from BarkBox.
Every month you'll get two toys, two full-size bags of treats and two meaty chews, all designed for strong and active pups. (Read our review.)
It can be hard providing the constant stimulation for a smart and active animal like the Golden. The Super Chewer subscription takes off part of the pressure by providing monthly toys and activities.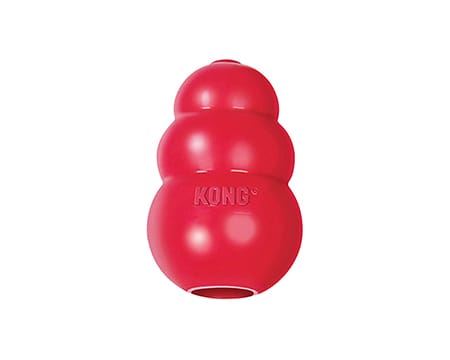 #2) Classic KONG Toy
A quintessential dog toy that keeps pups engaged and occupied for a very long time
Pros
Construction stands up to tough chewers
Choose any type of filling and treats

Made in the USA from globally sourced materials
Cons
Must order the right size for your pet
If you don't already have a Classic KONG Toy, stop everything and buy one now. We recommend them for any dog parent, but especially for Golden Retriever owners.
The Classic KONG Toy hides treats inside and keep a dog engaged and occupied while they hunt for the food. You can fill it with peanut butter, cheese, dog food, a biscuit, whatever sounds good to your Golden.
Because it's made from patented, resilient rubber, the KONG will last for a very long time. You may never need to replace it!
#3) Chuckit! Pro Launcher
This launcher wand and ultra-durable ball take games of fetch to the next level for dogs
Pros
Enjoy hands-free fetch with your dog
Easily throw the ball 100 to 140 feet
A great way to bond with your pooch
Cons
Not a great toy for dogs who don't love fetch
Golden Retrievers and fetch go together like peanut butter and jelly. But sometimes it may seem like your arm is about to give out from so much repitition.
Instead, you can save your arm and buy a Chuckit! Pro Launcher. The launcher sends the ball sailing distances the human arm just can't replicate for a longer throw.
Plus, you never have to touch the slobbery balls that your dog brings back and can simply scoop up the ball with the launcher.
This is definitely one of the best toys for Golden Retrievers and has completely revolutionized the game of fetch with four-legged friends.
#4) Pacific Pup Extra Strong Rope Toys
A set of 10+ extra strong rope toys for tugging, chewing, shaking and much more
Pros
Includes a variety of tough dog ropes
Plastic free and meets the toughest safety requirements
Supports Pacific Pups Rescue
Cons
Aggressive chewers may tear off strings
Rope toys are awesome for larger than average dogs like the Golden Retriever. But so many dogs quickly tear out the strings and ruin the rope within an instant.
Fortunately, the Pacific Pup Extra Strong Rope Toys are tougher and stronger. Plus, they're made of safe material for when the threads eventually do pull out.
This package includes three different-shaped toys for extra variety, so you can play tug-of-war, fetch or simply use them as a chew toy.
#5) OurPets Buster Food Cube Interactive Dog Toy
An interactive treat dispenser that encourages healthy eating habits while providing physical activity
Pros
Mentally and physically stimulates your dog
Adjustable difficulty levels
Easy to use and to clean
Cons
Can be very noisy
Tough chewers may break off plastic if left unattended
The Golden Retriever is one of the smartest and most athletic canines on the planet. This requires quite a lot of effort on the part of their owners.
Some days it may seem like your Golden just won't relax and you don't have the energy to take them out for yet another walk or trip to the dog park. That's when you bring out the Buster Food Cube.
Here's how it works: You load in the treats through the center column, turn it tight and place it on the floor for your dog to play. They'll quickly learn that they have to push the cube around to get any sort of treat.
The food dispenses slowly so your dog will get quite a workout in the process. This is definitely one of the best toys for Golden Retrievers!
#6) Chuckit! Kick Fetch Toy Ball
An extra durable outdoor ball with grooves for games of fetch or soccer
Pros
Easy to pick up and easy on your pup's mouth
Can play with ball on land or in water
Bright colors make it easy to find
Cons
Extra tough chewers may pierce ball
The ChuckIt! brand knows a thing or two about tough toys for athletic and active dogs. We also love their Kick Fetch ball, which allows you to play fetch with your dog without your hands. It's all about the feet in this game!
The design of the ball lets you kick it like a soccer ball while the grooves make it easy for your dog to carry it back.
Because it's Chuckit!, the ball is made with an extra strong, puncture-resistant material that will last for a very long time.
Your Golden Retriever will have a blast palling around in the yard with this innovative and fun ball.
#7) Nylabone XL Dura Chew Textured Toy
A tough, durable nylon bone that keeps powerful chewers busy and promotes healthy teeth
Pros
Promotes safe, healthy chewing habits
Bristles help to clean teeth and freshen breath

Includes scents to entice your dog
Cons
May be too hard for some dogs
Rawhides are great for dogs, but they do get expensive and aren't always the easiest for some dogs to digest. A Nylabone, on the other hand, is safer and lasts for years.
Made of extra-strong nylon, the uniquely shaped toy provides an excellent chewing experience yet wears down very slowly. It also promotes clean teeth and helps control plaque and tartar buildup.
Ultimately, it's a win-win: Your dog has a chew toy that keeps them occupied AND it helps keep their teeth clean and healthy.
We couldn't create a list of the best toys for Golden Retrievers without noting a pup parent favorite like Nylabone!
#8) KONG Xtreme Rubber Ball
A long-lasting, extremely fun bouncy ball for energetic dogs who love to fetch and chew
Pros
Made from KONG ultra-durable rubber
Extra bounce makes fetch extra fun
Inser

t treats for added interest
Cons
Much heavier than other balls
Does your Golden love to fetch and chew? If you said yes, they'll love the KONG Xtreme Rubber Ball!
Made from KONG's extra strong rubber formula, the sturdy ball stands up to the toughest chewers so you don't have to worry about your dog destroying it.
Plus, this ball moves differently than others on the market. The extra bounce makes it a great choice for fun games of fetch with lots of interactive play and exercise.
The center features a hollow insert to add treats, peanut butter or other food for extra fun. You simply add a few treats, bounce the ball and sit back and watch the entertainment.
#9) Pet Qwerks Talking Babble Ball Interactive Toy
A zany interactive ball that plays over 20 sounds and is triggered by touch
Pros
Fun for both you and your dog
Easily triggered when touched
Turns off automatically
This isn't an ordinary ball. The Pet Qwerks Talking Babble Ball Interactive Toy actually talks back to your dog!
Sensitive to touch, the ball will speak to your pup with human voices or exciting animal sounds when triggered. Most dogs love the experience and have fun batting, swatting and chasing around the interactive ball.
Best of all, you'll have some fun in the process, too. It's a riot watching a dog try to engage with this talkative toy.
And you won't have to do a thing to start playtime. The ball automatically turns on when triggered and shuts off on its own with playtime. You simply have to replace the battery every now and then.
#10) TUFFY Elephant Stuffed Toy
A strong stuffed toy for larger dogs that includes a squeaker to entice your pup
Pros
Assembled with multiple seams and webbing
Three uniquely fused layers for added durability
Floats in water and machine washable
Cons
For play, not chewing
Made for moderate chewers only
It may seem like there are no good stuffed animals for Golden Retrievers. They'll usually destroy stuffed toys within an instant, sending stuffing everywhere.
With the TUFFY Elephant Stuffed Toy, you can take a deep breath and relax. It's made of multiple layers and a number of seams for extra reinforcement, creating a super tough toy.
As an added feature, the squeakers are sewn inside protective pouches for your dog's safety.
You'll still have to supervise their play, but you won't sit in a panic waiting for the destruction.
Golden Retriever Exercise Needs – Best Toys for Golden Retrievers
The American Kennel Club (AKC) rates the exercise needs of all their registered breeds on a scale of "Couch Potato" to "Needs Lots of Activity."
Guess where the Golden Retriever lands?
It's probably not a surprise to learn that they're all the way to the right in the "Needs Lots of Activity" category.
A joyous, friendly and intelligent breed, the Golden Retriever practically radiates sunshine.
The breed was originally developed as a hunting dog with exceptional obedience and athletic skills. They excel at hunting and field trials and also do great with agility, obedience and tracking activities.
With this lineage, the Golden needs lots of daily exercise. The best toys for Golden Retrievers can help you provide the stimulation this boisterous breed needs!
Final Thoughts: Best Toys for Golden Retrievers
Dogs are the best. And if you have a Golden Retriever, you should be especially thankful. They're intelligent, energetic and so darn cute.
But they also require a lot of attention.
Most Golden Retrievers, for example, need at least an hour of exercise and mental stimulation every day. That's a minimum.
If you have a Golden or are thinking about getting one, you should know about the 10 best toys for Golden Retrievers.
It's by no means an exhaustive list, but it includes tried-and-true picks that are beloved by dog owners across the globe.
Just remember, whenever you introduce a new toy to your dog, make sure you supervise their play. You never know how they'll react to the toy and what kind of damage they could do – especially with Golden Retrievers.
It's not a bad idea to try out several types of toys, either. The type of toy your Golden prefers really depends on their personality, and the answer may surprise you.
Ultimately, you can't go wrong with any of the picks on our guide to the best toys for Golden Retrievers. Your friendly furbaby will love receiving a new toy and bonding with you in the process.