10 Homemade Dog Food Recipes Every Dog Parent Should Know
Published:

Last updated:

by Jessi Larson Affiliate Disclosure: We hope you love the products we've recommended! As an Amazon Associate we earn a small share from qualifying purchases.
Dogs are part of the family, and while you only want to feed your kids the very best foods, the same goes for our pups.
We've all read about the scary dog food recalls and some of the sketchy things that go into lower-grade dog foods. If you buy quality dog food, you're fine. But it can be comforting to know exactly what is going into your dog's food. That's why some pup parents make their own dog food from scratch.
Making homemade dog food is also a good option for pups with chronic health issues, like diabetes or intestinal issues. It's something to consider, too, if you have a dog who is overweight or older.
We bring our dog Toby to doggy daycare a few times a week, and the manager, a super sweet gal named Jen, feeds her two rescue pups homemade dog food every day. One of them was having major stomach issues, and a blander diet did wonders for her health. She's like a new dog because of it.
Just a note: Before you make any big changes to your dog's diet, always consult with their veterinarian. And keep an eye on your pup after feeding them the new food to see how they're doing. Chances are they'll be just fine, perhaps with even more pep in their step, but you just want to be sure.
To get you inspired, here are 10 easy and nutritious dog food recipes you can make at home right now.
1. Turkey & Veggie Dog Food Recipe
Natural, human-grade ingredients like ground turkey, carrots, broccoli and zucchini make this a healthy homemade dog food recipe packed with good-for-you nutrients.
Get recipe at Skinny Ms.
2. DIY Dog Food
Cheaper than store-bought dog food, this recipe from DamnDelicious combines ground turkey, brown rice and lots of veggies. It's easier on your wallet and on your dog's tummy.
Get recipe at DamnDelicious
3. Slow Cooker Dog Food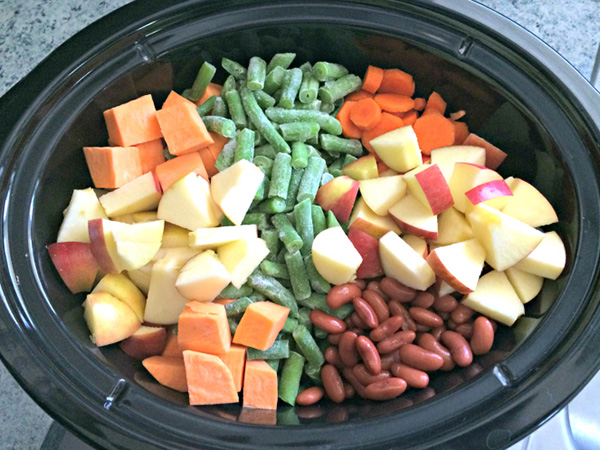 Slow cookers make preparing meals much easier, and dog food is no exception. All you have to do with this recipe is chop up ingredients, dump in the slow cooker and then stir to mash together. That's it!
Get recipe at Life in Pearls and Sports Bras
4. Make-Ahead Doggie Stew
Stews are hearty yet nutritious dishes that fill you up, and Skinny Ms. has a version just for dogs that is packed with protein.
Get recipe at Skinny Ms.
5. Vegan Dog Food
Here's an interesting twist on homemade dog food. This completely vegan version has only four ingredients – quinoa, bananas, frozen peas and sweet potatoes – creating a simple, clean dish for dogs.
Get recipe at Veg Annie
6. Homemade Dog Food in the Instant Pot
The instant pot speeds up cooking times by 2-10x and uses up to 70 percent less energy. If you have one, use it to make this nutritious homemade dog food recipe. And if you don't have one, consider purchasing one – you'll get more use out of it than you'd ever imagine!
Get recipe at Traditional Cooking School by Gnowfglins
7. Crockpot Chicken Dog Food Recipe
If you've never made homemade dog food before, this is a good place to start. It's easy and super tasty for the furbabies.
Get recipe at Dogvills
8. Homemade Dog Beef Stew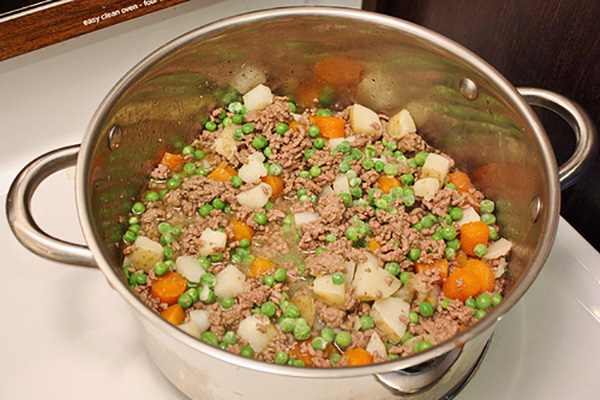 An easy one-pot recipe, this homemade dog beef stew is straightforward and simple to make and will provide your dog with lots of healthy nutrients.
Get recipe at Life at Cloverhill
9. DIY Dog Food for Diabetic Dogs
Unfortunately, some dogs, especially older or overweight ones, develop diabetes. Fortunately, there are things you can do to help with their health, like feed them this homemade dog food recipes developed especially for diabetic dogs.
Get recipe at My Untangled Life
10. Turkey and Rice Homemade Dog Food
And finally, this no-frills recipe is hearty and healthy. The combination of chicken and rice is easy on their stomach, so if your dog isn't feeling well, this is a good recipe to make.
Get recipe at All Recipes