Best Waterproof Dog Bed – 10 Top Picks
Published:

Last updated:

by Jessi Larson Affiliate Disclosure: We hope you love the products we've recommended! As an Amazon Associate we earn a small share from qualifying purchases.
A waterproof dog bed is a great choice if you have a puppy who's not yet potty trained, an older dog with incontinence issues or a canine who simply can't control his bladder.
With so many options out there, however, where do you begin?
Don't worry – our guide to the best waterproof dog bed options will help!
We've rounded up the top 10 picks based on user reviews.
Why Do You Need a Waterproof Dog Bed?
When it comes to dogs, accidents happen. This is especially true for dogs at the beginning and tail end of their lives.
Instinctually, dogs dislike soiling areas that serve as their "den" and don't want it to smell badly. That's why it's important to have a bed that's easy to clean.
But what exactly does it mean when they say a bed is waterproof?
With a waterproof dog bed, the design most often features a waterproof lining. This stops urine from soaking into the stuffing of the bed.
If the urine were to seep in, the damage and smell are harder to remove. And, unfortunately, buying a new dog bed isn't cheap!
The other type of waterproof dog bed is one that has a waterproof base. This means the liquid won't leak through the bed onto the floor. Many of these beds are machine washable so if an accident does happen, you can pop it in the wash machine for a quick clean.
Best Waterproof Dog Bed Options
The following waterproof dog beds were selected based on user reviews. Hundreds, and in some cases, thousands, of pup parents rated these beds, and our list includes ones with at least a 4.5/5 rating.
One note: There's a difference between a waterproof dog bed and a water-resistant dog bed.
A water-resistent bed, also labeled an outdoor dog bed, has an ultra-tough outer layer that repels water. Because of this, it's stiffer, less comfortable and can make a lot of noise.
The first waterproof dog bed on our list is the Dogbed4less Memory Foam Dog Bed with Waterproof Cover.
A comfortable night's sleep is important for a dog, especially one who is on the older side, and this bed delivers that through a 100% gel-infused memory foam mattress.
Hypoallergenic and high density, the comfortable memory foam mattress supports a dog's joints and helps relieve arthritis pain.
And when it comes to protecting against urine and other unwanted liquids, the bed includes a waterproof internal zipper cover to protect the memory foam plus a washable and extra durable MicroSuede external zipper cover.
With sizes ranging from small to jumbo, the affordable bed has options to accommodate any dog.
Pros:
The brown and khaki colors blend in with any home
The memory foam provides extra orthopedic support
Options are available for any size dog
Cons:
The design is simple and basic
Not all dogs like an extra plush bed
The memory foam may smell until aired out
This dog bed is an excellent choice for dogs with joint conditions who need a safe, comfortable and waterproof place to rest.
The side bolsters offer neck support and ensure dogs don't roll off the bed, and the low but supportive mattress is designed for dogs who don't have the mobility to climb or jump into bed.
The bed comes with removable covers that are easy to wash, quick-drying and include a waterproof mattress protector to catch accidents associated with incontinence – a key feature!
The bed is available in multiple sizes and four different stylish colors.
Pros:
The bed is designed especially for dogs with joint and mobility issues
It can also be used as a preventative measure for your dog's health
Replacement covers are available to extend the life of the bed
Cons:
The price is on the higher side
Some dog owners report the bed is a little too firm
How incredibly comfortable does this dog bed look? It's so soft and cozy that you may be tempted to curl up in it yourself!
Fluffy yet firm, the BinetGo Faux Fur Cushion Bed is perfect for dogs on the smaller size. The medium is designed for dogs under 15 pounds and the large fits those that are under 25 lbs.
Another important part of this bed: the bottom.
The non-skid bottom keeps the dog bed in place, which is a great feature for homes with hardwood floors or tile. And, importantly, the bottom is waterproof so unwanted liquids won't seep onto the floor.
Pros:
The bed is lightweight and portable
Dogs love the soft faux fur
It comes in three different colors: beige, navy gray or pink
Cons:
The bed doesn't fit dogs over 25 lbs
You need to shake the bed and let it rest for 1-2 days to distribute the filling
It's not designed for destructive dogs who like to chew
If your dog needs extra heat for his joints, or if the temperature is dropping and your pup could use extra warmth, the Zobire Waterproof Heated Pet Bed is an excellent choice!
The built-in dual thermostat provides consistent temperature that will warm up your beloved furbaby in no time.
If you're worried about safety, don't fret. The warming pad has been tested and certified by MET Labs to exceed USA electrical safety standards. And the cord casing is chew resistant so your dog can't cause damage.
To provide protection, the pad inner layer is waterproof and urine proof and can be wiped clean with rag. And while the removable fleece cover isn't water-resistant, it is machine washable for quick cleaning.
Pros:
The heated pad is great for chilly winter months or for dogs who need the warmth for an injury or illness
It meets the highest safety standards
Cons:
Only one size is available and it doesn't fit larger dogs
The bed's not as soft or comfortable as others on this list
The cord is on the shorter side
Got an extra large dog who needs a comfortable, supportive bed that's also waterproof? Your search may be over.
The bed holds dogs up to 200 lbs, ensuring that even the biggest beasts have a place to rest.
The generously filled base and side bolster provides excellent support, which is great for dogs with joint pain, recovering from surgery or living with a painful condition. You can also buy it for your dog before any issues arise to ensure their health.
For lasting comfort, the famous Laifug foam is guaranteed to retain at least 90% of its shape and support for three years after your purchase.
And when it comes to waterproof dog beds, this is one of the best of the best. It includes a waterproof, washable cover and a waterproof inner liner to protect the memory foam.
Pros:
The orthopedic memory foam offers extra joint support
The bed is backed by a generous three-year guarantee
The modern design is sleek and stylish
Cons:
The bed doesn't accommodate small and medium dogs
Users reported issues with the zipper
You may know BarkBox as the monthly subscription service. But they also offer a host of other dog products – including a high-quality waterproof dog bed.
This comfortable memory foam mattress provides therapeutic support and helps relieve any aches and pains a dog is experiencing.
And to help combat accidents, the bed features a waterproof lining in the cover. This zippered cover slides off easily and can be thrown in the wash when dirty.
Another great feature about this bed is that it's available is sizes S-XL so you'll find an option for any size dog.
Last but not least, the bed comes with a BarkBox squeaky toy so your dog can have a little fun before they nap.
Pros:
The waterproof cover is machine washable so it's super easy to clean
The memory foam is great for a dog's joints
The bed comes in a variety of sizes and colors
Cons:
The bed arrives vacuum packed so it needs to rest for three days before use
The larger sizes may not fit the biggest dog breeds
Some users report issues with the zipper
Not all dogs need an ultra-thick bed. And sometimes you simply need a mat to throw on hardwood floor or carpet or to use with a bed, sofa, car or crate.
That's where the Dogbed4less Premium Gel-Infused Memory Foam Mat comes in. It still offers plenty of cushioning and support through a memory foam pad and fleece top but without the bulky padding.
The bottom under layer is made with high-quality waterproof rubber to protect the floor from any accidents.
And if your dog does soil the bed, you can just throw it in the wash.
Pros:
The gel-infused memory foam keeps dogs cold in summer and warm in winter
You can throw the mat down anywhere you need it
The bed is machine washable
Cons:
It may be too large for small dogs
Dogs with joint or other health issues may need more cushioning
The mat isn't chew proof so this isn't a good fit for destructive dogs
For the pup parent on the go, sometimes you need a portable pet bed that travels with you.
If this describes your situation, we recommend the BomGaroto Portable Pet Mat. You simply roll up the bed, put it in the included storage bag and away you go.
The water-beading on the top of the mattress makes it easy to shake or wipe away liquid. And if the mat does get wet, it dries quickly thanks to the microweave polyester.
If you do need to clean the mat, it's machine washable so you can toss in the washer on cold and tumble dry on low heat.
Pros:
The bed rolls up and can go anywhere you need it
If the bed is soiled, you can simply throw it in the wash
The cotton padding offers a soft and fluffy place for your dog to rest anywhere you need it
Cons:
The bed may not be large enough for some big dog breeds
It doesn't have as much padding and orthopedic support as other beds on the list
If you're looking for a dog bed to set up in a permanent space, this isn't the right choice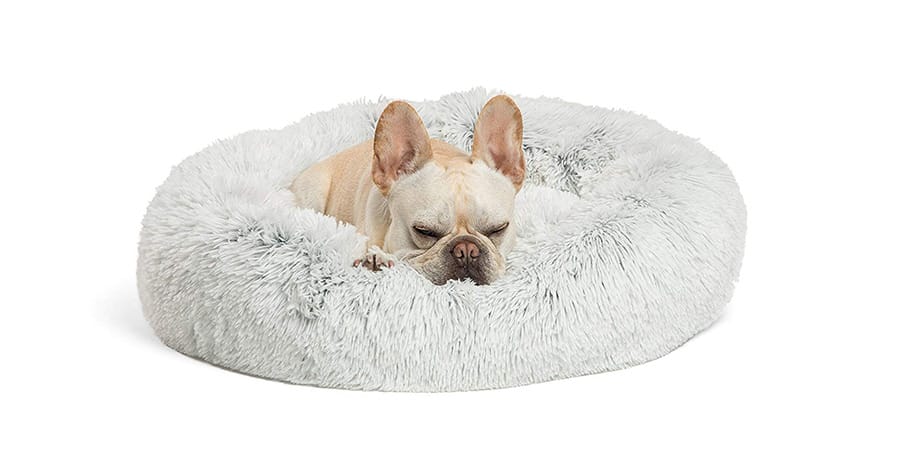 Some dogs may need a bed that gives them an extra sense of security. For those cases, we recommend this Fur Donut Cuddler from Best Friends by Sheri.
This round, super soft bed features a raised rim around the sides hat creates an added level of comfort and protection. It also serves as neck support.
As for waterproofing, the bottom is waterproof so liquids won't seep onto the floor, and the entire bed can be placed in the wash machine when soiled.
Oh, and did we mention the ultra-soft surface? The fur materials are reminiscent of a mother's fur coat and add an extra sense of comfort.
The bed is available is sizes S-XL, and you can pick from taupe or frost for the color.
Pros:
The bed is a cozy oasis for dogs
The super soft materials keeps pups comfortable and warm
The waterproof bottom stops any unwanted accidents and spills from leaking to the floor
Cons:
The bed is not suitable for puppies or dogs with excessive teething or chewing behavior
You can't air dry the bed after machine washing; instead, it must be placed in the dryer to avoid matting
The final entry on our guide to the top waterproof dog bed options is this affordable bed by SportPet Designs.
The bed is designed to create an instant snuggle spot for your dog. Or you can use it with a SportPet Designs kennel for the perfect fit.
The base is waterproof and also features non-skid materials to help it stay in place. And if a dog does soil the bed, don't worry – you can throw it in the wash and relax.
Pros:
The bed is designed to fit a kennel like a glove
This is the most affordable option on the list
You can quickly machine wash and air dry the bed when dirty
Cons:
The cushioning is not as substantial as other waterproof dog bed options on the list
It only comes in one color
Some users report that the anti-slip beads at the bottom can come off
What to Look for in a Waterproof Dog Bed
Just because a waterproof dog bed is highly rated doesn't necessarily mean it's the right one for your situation. You need to find one that fits your dog's unique needs.
When looking for just the right waterproof dog bed, keep these factors in mind:
Size
First and foremost, is the bed the right size for your dog? Always review the exact measurements before making a purchase. A large for one brand could mean medium or even an extra large in another.
Too small of bed and your dog will obviously fall off the sides, making for an uncomfortable night's sleep. But if it's too big, your dog might not feel safe and secure either.
Budget
Another thing to think about is budget. How much do you want to spend on a waterproof dog bed?
If you simply need a place for your dog to rest on occasion, it doesn't make sense to break the bank. But if you have a dog with health issues like joint problems and so forth, then you may just want to pay more for an extra supportive bed.
Durability
Durability is also important, especially if you have a dog who likes to chew. Check out what materials the bed is made of and see if it will hold up to your dog's needs.
For example, if you have a young pup who loves to destroy everything in sight, a bed that's made of super soft but not necessarily ultra durable materials isn't a good fit. But this could be just what an older, more mature dog needs.
Design
And finally, don't discount the design. Especially if you're putting this in a prominent part of the house. Do you like what the bed looks like? Do the colors work with your decor? And, most importantly, do you think it will be a comfortable fit for your dog?
Got a New Puppy?
If this waterproof dog bed is for a new puppy, we suggest you check out our puppy guide.
It has everything you need to know about bringing home a new dog, from what supplies you'll need, what food to buy, how to train and socialize them and more.