9 Minty Fresh Dog Treat Recipes You Need for Your Dog's Breath
Published:

Last updated:

by Jessi Larson Affiliate Disclosure: We hope you love the products we've recommended! As an Amazon Associate we earn a small share from qualifying purchases.
What is it about our dog's breath? One day they have the cutest, sweetest puppy breath and the next day they're full-grown with a case of, well, dog breath.
We all want to cuddle up close with our dogs and enjoy the experience, but unfortunately, a case of gnarly dog breath can get in the way.
If this is the case with your dog, don't worry – there are still lots of things you can do, like regular teeth brushing or going to the vet for a cleaning.
Or, here's an easy and fun idea: make your pup minty fresh dog treats that taste great and spruce up the smell of their breath.
Here are the top 10 mint-flavored dog treat recipes you need to check out.
1. Pumpkin Apple Doggie Mint Treats
Found at DamnDelicious
DamnDelicious is one of the top food blogs on the interwebs, so when the site published a dog treat recipes, we were thrilled. This recipe is packed with nutritional value and leaves your dog with a minty fresh feeling.
2. DIY Doggie Breath Treats
Found at Hello Nature
No doubt your beloved furbaby will love these yummy treats from Hello Nature. Healthy ingredients like parsley, mint and cococut oil help with digestion, brain health, their skin and coats, and so much more.
3. Mint & Parsley Dog Treats
Found at The Lazy Pit Bull
Don't let the bright green color fool you. This is one yummy (and healthy!) dog treat recipe.
4. Breath-Freshening Frozen Mint Dog Treats
Found at 12 Tomatoes
On those crazy warm summer days, what better to give your dog than a frozen, fresh-tasting treat? This recipe is uber-easy and will help your dog feel more comfortable in sweltering temps.
5. Superfood Doggie Fresh Breath Treats
Found at Skinny Ms
A big benefit of making your own dog treats is that you know exactly what goes into them. And with this recipe from Skinny Ms, you'll see firsthand all the superfood goodness inside, like carrots, bananas, parsley and olive oil.
6. Mint Carob Cookie Dog Treat Recipe
Found at The Pug Diary
OK, I admit I didn't know what carob was until I read this article. What exactly is this food? The answer: apparently it's a healthy alternative to chocolate that dogs can actually eat. We love that carob gives our furbabies a chance to experience the tasty deliciousness of chocolate without the health repercussions.
7. Four-Ingredient Mint Parsley Pup Treats
Found at Momma Told Me
This easy four-ingredient recipe is quick to put together and will satisfy even the pickiest pups.
8. Homemade Dog Treats – Breath Mint Recipe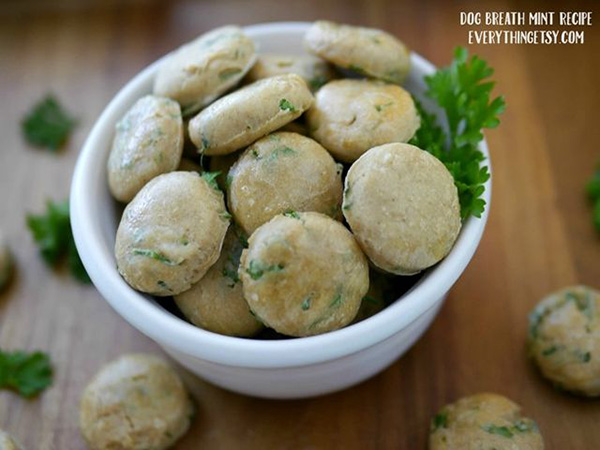 Found at Bloglovin'
We all know that dogs love peanut butter. Along with a bunch of minty goodness, this recipe includes a big dose of yummy PB. Your dog will be in heaven.
9. Mint Buckwheat Dog Biscuits
Found at Lola the Pitty
Another unique recipe, these mint buckwheat dog biscuits from Lola the Pitty will make a serious difference in your dog's breath.