13 OMG Cute Dog Toys Your Pup Needs
Published:

Last updated:

by Jessi Larson Affiliate Disclosure: We hope you love the products we've recommended! As an Amazon Associate we earn a small share from qualifying purchases.
Full disclosure: I'm kind of obsessed with my brother's dog, Theo. He's an 8-lb. Maltipoo with plenty of personality. My whole life, I've always had large to extra large dogs, so it's such a fun change to be around such a small dog. Especially one with so much spunk and charm.
With our giant-sized Labrador, Toby, it's tough to buy dog toys. He has literally destroyed 99.9 percent of all the toys he's received. So with itty bitty Theo, I have so much more fun picking out toys since he'll actually enjoy them and not rip them to shreds in 20 seconds or less.
As I was shopping for Theo's Christmas gift, I realized how many freakin' adorable dog toys are out there for small-to-medium pups. Like, OMG adorable.
This inspired me to write a post showcasing the best cute dog toys available right now.
1. ZippyPaws Burrow Squeaky Hide and Seek Toy
We bought this for Theo! It took me a while to figure out which one to get because ZippyPaws has a bunch of different adorable burrow toys, where you tuck in cute little stuffed creatures into some sort of container.
In the end, the monkey/banana won out, which is awesome because apparently Theo LOVES his monkeys. My brother says he treats them like they're his babies. At first I didn't buy it – I thought they were pulling my leg – until I saw it with my own eyes. Take a look at this video of Theo.
2. KONG Cozies Dog Squeaky Toy – Marvin the Moose
Over at My Dog's Name, we love KONG products. In fact, the classic KONG toy is the only thing Toby has not destroyed.
In addition to the products we all know and love, KONG also has a line of super sweet squeaky toys. This adorable moose caught our eye, but there are lots of other characters including an alligator, squirrel, elephant and lion.
3. Starbarks with Lid Plush Toy
We all have someone in our life who just can't go without their foofy mocha frappe latte. If they have a dog, you MUST get them this hilarious Starbarks (get it?) stuffed toy.
4. Duckling-Shaped Rope Toy
Not all cute dog toys are stuffed. This darling little rope toy is just as OMG adorable as the others. And likely much more durable.
The duckling is our personal favorite, but there are lots of other cute options like a lion, dog or tiger.
5. Blueberry Rabbit Squeak Toy
How cute is this stuffed rabbit from Blueberry? It looks like something that belongs in a children's nursery.
Instead, this is a sweet stuffed toy that your dog will love. It even includes a squeaker inside.
6. Nerf Dog Crunchable Mini Soccer Balls
We love these mini Nerf balls for active dogs on the small-to-medium side. The balls even crunch and squeak – what more could a dog ask for?
7. ZippyPaws No Stuffing Lady Bug Toy
First off, this face. Adorbs. It doesn't get much cuter than this.
Secondly, this toy from ZippyPaws has no stuffing. You heard it right. No stuffing for your dog to pull out and make a mess.
8. Tough Turtle Dog Toy
Looking at this plush turtle brings a smile to our face. He's so silly, yet so cute. And he squeaks!
A little larger in size, this turtle is perfect for playing fetch or tug of war.
9. iFetch Interactive Ball Launcher
Have you ever met one of those dogs who just won't stop playing fetch? You throw the ball again, and again, and again.
Now there's a genius solution: the iFetch Interactive Ball launcher. Your pup learns to drop the ball in the container and boom! the ball fires out.
10. Petzilla Squeaky Vegetable Chew Toy
This Squeaky Vegetable Chew toy set from Petzilla is beyond adorable. The set includes a pumpkin, chili, carrot and eggplant, all of which are made of high-quality fabric and cotton with tiny squeakers inside.
11. Outward Hound Paw Dog Puzzle
Interactive dog puzzles are a brilliant way to keep your dog occupied and mentally stimulated, and this paw-shaped puzzle from Outward Hound is especially adorable.
How it works is that you fill the chambers with treats, place pieces over it and encourage your dog to seek out the snack.
12. Hedgehog Dog Toy
We can't get enough of the hedgehog's sweet little face and furry coat. This plush toy (with a rattle!) includes an extra layer of material to increase strength and has minimal stuffing – a bonus if you have a pup who likes to chew.
13. ZippyPaws Food Buddies Chicken Bucket
ZippyPaws food toys are hilarious and completely adorable to see your pup running around with.
Your guests are sure to get a laugh when they see fido carrying a piece of chicken around the house. This series of toys also includes coffee and donuts, milk and cookies, and a bucket of popcorn.
This toy is adorable and keeps dogs mentally and physically stimulated.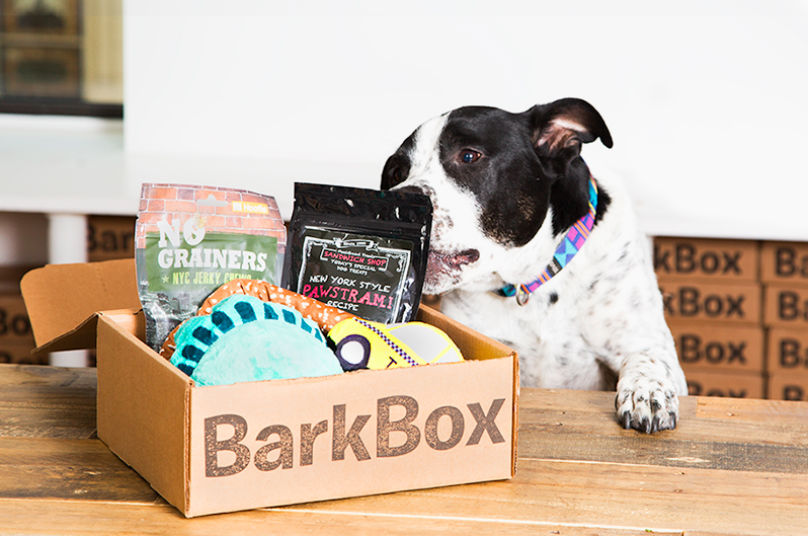 You've probably heard of BarkBox before. If not, here's the lowdown: It's a subscription service where every month a box full of cool dog treats and toys is delivered to your doorstep. The box includes 4-6 items curated from their current collection.
When you get started, you can pick your dog's size so all the treats and toys fit your pup just right.
What we love about this is that it's a fun surprise for dogs and pup parents alike. The toys are super cute, unique ideas. Getting a delivery every month is exciting! And it's also a convenient way to try out new treats and toys that you probably never would have heard of.