Top Border Collie Names – 785+ Ideas For Your Pup
Published:
Last updated:
by Jessi Larson
Your new dog deserves a great name. Fortunately, we have 785+ awesome Border Collie names to choose from.
Our ultimate naming guide includes ideas that are classic, cute, funny, tough, and much more. It also contains options inspired by their color, speed, intelligence, heritage, and history.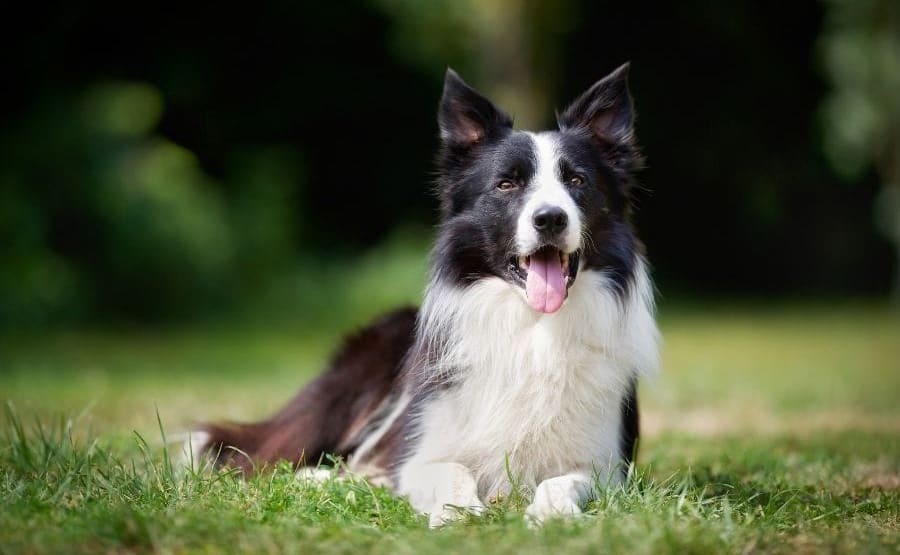 How to Find the Best Names
Finding a name for your new pup is a challenging task. So how do you pick a name you love that also fits your new furry friend?
The first step: Gather lots and lots of inspiration!
You can narrow it down later. But first things first, read through these 785+ Border Collie names to see if any catch your attention.
Cute & Classic Male Border Collie Names
The Border Collie is a classic dog breed that's beloved by many. After all, who can resist this charming, handsome dog?
To start your search, let's look at cute and classic names. These monikers have proven to be quite popular among pup parents.
First up are male Border Collie dog names.
Argos
Barkley
Marley
Blue
Buddy
Max
Banjo
Murray
Lincoln
Fido
Buster
Chewie
Toto
Jack
Pluto
Louie
Benji
Atlas
Shiloh
Waldo
Asher
Archie
Lucky
Wally
Percy
Bingo
Teddy
Cooper
Champ
Augie
Chance
Dino
Odie
Wishbone
Sully
Brody
Bear
Leo
Arlo
Hank
Murphy
Toby
Yoshi
Oscar
Tiger
Patches
Chase
Alfie
Jasper
Rudy
Comet
Bernie
Scout
Barney
Rex
Beau
Flash
Oliver
Spot
Skip
Henry
Archer
Jake
Ernie
Milo
Morty
Ziggy
Gizmo
Perry
Rascal
Coach
Mickey
Finn
Charlie
Cute & Classic Female Border Collie Names
If you're welcoming a female Border Collie puppy into your life, you must check out these adorable ideas.
The charming monikers below are great for a fetching furball.
Dory
Buffy
Gertrude
Dakota
Cookie
Pixie
Maisie
Emma
Candy
Autumn
Coco
Sophie
Riley
Mabel
Bambi
Willow
Elsa
Trudy
Harper
Lily
Cleo
Gracie
Piper
Pumpkin
Millie
Happy
Joy
Hannah
Angel
Rosie
Bailey
Zoey
Nala
Molly
Clara
Dixie
Nellie
Mia
Abby
Poppy
Macy
Charlotte
Ava
Izzy
Ellie
Olive
Jojo
Pippa
Winnie
Paisley
Chloe
Phoebe
Roxy
Buttercup
Madison
Luna
Maggie
Kiki
Belle
Gigi
Penny
Daisy
Cricket
Violet
Hazel
Bella
Minnie
Lola
Lucy
Gizmo
Amelia
Petunia
Sadie
Addie
Strong Male Names
A strong working dog boasts impressive endurance and ability. Initially, they were bred to herd livestock, and it shows.
With such physical stamina, why not consider strong and athletic ideas?
These tough male dog names reflect the breed's strength and speed.
Surge
Macho
Nitro
Alpha
Tyson
Fang
Crash
Gage
Yeti
Thor
Panic
Rambo
Ares
Caesar
Brutus
Vinnie
Yukon
King
Diesel
Reaper
Killer
Sumo
Vice
Ghost
Maverick
Scorpio
Hunter
Avalanche
Boomer
Titan
Tank
Spike
Spartacus
Blaze
Hercules
Ace
Brando
Vader
Grudge
Bruiser
T-Bone
Denali
Mack
Jumbo
Duke
Rocky
Raider
Bane
Bandit
Trooper
Moose
Bruno
Fury
Butch
Rex
Hulk
Zeus
Magnum
Dozer
Odin
Chief
Prometheus
Samson
Blade
Strong Female Names
And if you have a female pup, these fierce and forceful options are a great choice.
Scrappy
Nyx
Attila
Justice
Tiger
Artemis
Queenie
Baroness
Khaleesi
Xena
Liberty
Cinder
Nova
Indy
Jinx
Alaska
Vega
Raven
Sheba
Foxy
Vixen
Taboo
Jericho
Harley
Athena
Onyx
Rousey – as in Ronda Rousey
Hera
Jezebel
Kahuna
Gypsy
Diva
Midnight
Kodiak
Mystique
Beastie
Brawny
Dahlia
Amazon
Medusa
Rogue
Huntress
Elektra
Katniss
Echo
Alpha
Elegant Male Names
The Border Collie moves with undeniable grace and finesse. They're also incredibly gorgeous to look at and possess a dignified demeanor.
With this in mind, an elegant dog name might be right for your new pup.
Here are male dog names that are regal and refined.
Augustus
Gatsby
Churchill
Hamilton
Kingsley
Alfred
Lord
Jacques
Wesley
Edwin
Prince
Winston
Ashton
Clancy
Berkeley
Francois
Asher
Princeton
Bernard
Duke
Arthur
Redmond
Kingston
Alcott
Baron
King
Emerson
William
Charleston
Fairfax
Elegant Female Names
Continuing the inspiration, let's explore elegant ideas for a female pup.
They're gorgeous and graceful, just like your dog.
Ruby
Princess
Bianca
Paris
Jewel
Amelie
Lady
Juliet
Constance
Buffy
Effie
Victoria
Fifi
Afton
Diamond
Queen
Chanel
Harper
Duchess
Lux
Aspen
Portia
Genevieve
Camilla
Jules
Aurora
Octavia
Elizabeth
Nell
Smart Dog Names
Did you know that the Border Collie is considered one of the most intelligent canines on the planet? They're the smartest dog breed in existence, according to many canine experts.
You could recognize the breed's braininess with one of these smart names. They're cute, creative, and instantly reflect high intelligence.
Whiz
Egghead
Tesla
Savant
Doc
Brain
Albert
Yoda
Galileo
Sheldon
Da Vinci
Smarty
Spock
Freud
Brainy
Plato
Pundit
Guru
Gates
Mensa
Genius
Princeton
Rubik
Wisdom
Einstein
Socrates
Helix
Jobs
Wit
Watson
Doogie
Scholar
Edison
Sage
Aristotle
Urkel
Dexter
Nobel
Darwin
Havard
Data
Curie
Newton
Sherlock
Beaker
Neutron
Prodigy
Fast Names
Another remarkable fact about Border Collie dogs is that they're super fast and can run at speeds up to 30 miles per hour.
Why not use this for inspiration for a name?
Here are some speedy ideas you might like.
Hustle
Marathon
Adidas
Race
Stride
Bib
Sprint
Reebok
Blitz
Flurry
Scooter
Mustang
Pronto
Lightening
Bolt
Tempo
Nike
Puma
Sonic
Flash
Speedy
Turbo
Porsche
Runner
Peppy
Chase
Dash
Frisky
Go-Go
Trail
Derby
Surge
Zephyr
Pace
Border Collie Names Inspired by Color
The Border Collie is an incredible kaleidoscope of colors, which provides excellent inspiration for your dog's name.
Black and white is the most popular breed coloring. But the breed comes in many other colors, including black, brown, blue, red, and even violet.
Their coats are often multi-colored and feature incredible patterns and markings.
As you continue your hunt for Border Collie names, check out these ideas specific to their unique appearance.
Black and White Names
Panda
Pongo
Pepe Le Pew
Domino
Banksy
Monk
Charlie Chaplin
Chess
Peppermint Patty
Spade
Whaley
Puffin
Checkers
Cruella
Skunky
Oreo
Soccer
Shamu
Snoopy
Ying Yang
Jeeves
Tux
Perdita
Tuxedo
Dice
Cookie
Discover more black and white dog names.
Black Names
Black Jack
Espresso
Raven
Shadow
Noir – black in French
Midnight
Pepper
Ash
Stormy
Olive
Poe – Edgar Allen Poe
Jet
Thunder
Enigma
Zorro
Onyx
Elvira
Nero – black in Italian
Coal
Cinder
Preta/Preto – black in Portuguese
Smokey
Tarmac
Ebony
Morticia
Crow
Mystery
Shady
Inky
Ember
Shade
Discover more black puppy names.
White Names
Casper
Boo
Alabaster
Bianco/Bianca – white in Italian
Snowy
Polar
Ivory
Crystal
Pearl
Al Bino
Powder
Snowball
Bones
Gardenia
Cotton
Blizzard
January
Winter
Ghost
Dove
Frosty
Ice
Sugar
Marshmallow
Discover more white dog names.
Blue and Gray Names
Aqua
Blue
Marine
Misty
Pewter
Flint
Ash
Cerulean
Gray
Stone
Dusty
Storm
Teal
Grey
Navy
Sapphire
Sky
Slate
Silver
Azure
Cobalt
Cyan
Blue
Fog
Discover more gray dog names.
Brown and Tan Names
Hickory
Sahara
Bear
Reese
Bean
Sunny
Tootsie
Coco
Peaches
Brun – brown in Swedish
Chestnut
Heath
Topaz
Cashew
Khaki
Prairie
Mocha
Kobicha – one of the Japanese traditional colors used in kimonos
Pumpernickel
Tanner
Amber
Almond
Teddy
Tawny
Buff
Sienna
Sandy
Porter
Tiger
Summer
Guiness
Beige
Bambi
Russet
Terra
Oak
Acorn
Kahlua
Marron – brown in French
Sesame
Chewbacca
Nutella
Cadbury
Peanut Butter
Raisin
Java
Blondie
Wheaten
Umber
Chip – like chocolate chip
Hershey
Rolo
Moose
Fawn
Manila
Charlie Brown
Ginger
Godiva
Brownie
Butterscotch
Maple
Braun – brown in German
Tan
Woody
Discover more brown dog names.
Red Names
Merlot
Tabasco
Copper
Cheyenne
Saffron
Fox
Amber
Scarlet
Caramelo
Honey
Hazel
Terra
Ruby
Brandy
Peaches
Chili
Tiger
Caramel
Rusty
Holly
Ambrosia
Clementine
Sienna
Rose
Flame
Poppy
Penny
Valentine
Burgundy
Amaretto
Cayenne
Red
Goldy
Marigold
Cheddar
Autumn
Shiraz
Sepia
Discover more red dog names.
Lilac Dog Names
Amethyst
Cosmos
Gladiolus
Heather
Hydrangea
Iris
Lavender
Lilac
Mauve
Mulberry
Orchid
Periwinkle
Petunia
Plum
Sangria
Violet
Wisteria
Multi-Color and Patterned Names
Blot
Monarch
Harley
Turtle
Harlow
Puzzle
Mosaic
Chevron
Pixel
Twix
Pebbles
Dos – two in Spanish for dogs with dual-colored coats
Merle
Speck
Checkers
Tres – three in Spanish
Kaleidoscope
Stripes
Spot
Camo
Smudge
Tre – three in Italian for the number of colors in a tri-color coat
Rainbow
Blotch
Pollock – artist Jackson Pollock
Brindi
Speckles
Jackson – artist Jackson Pollock
Sundae
Harlequin
Sprinkles
Dot
Dottie
Patches
Marble
Tortie – tortoiseshell pattern
Oriole
Freckles
Funny Border Collie Names
If you have a fun sense of humor, you could go with a funny option for a name. They say laughter is the best medicine, and these names are pretty entertaining!
Funny Male Names
Yoda
Spud
Frodo
Cletus
Boss
McGruff
Chuck Norris
Romeo
Fabio
Jaba
Trouble
Gonzo
Frito
Bacon
Waldo
Ole
Skip
Dilbert
Tamale
Bubba
Homer
Opie
Dude
Corky
Chunk
Toto
Nacho
Taco
Pee Wee
Funny Female Names
Bunny
Biscuit
Flo
Kitty
Cutie
Spanx
Brunhilda
Babushka
Ursula
Tankerbell
Twinkie
Stinky
Nugget
Cheeto
Sweetie
Beaker
Marge
Pinky
Squeaky
Cupid
Olga
Chica
Myrtle
Names From Movies & TV
Many Border Collies have appeared in movies and on TV, and you could also use one of these names for your new pup.
Bandit – Little House on the Prairie
Fly – Babe
Hector – Heck's Way Home
Jessie – Animal Farm
Murray – Border Collie mix from Mad About You
Nana – Snow Dogs
Raffles – Rover Dangerfield animated movie
Sammy Davis Jr. Jr. – Everything is Illuminated
Shep – British children's show Blue Peter
Trip – A Dog Year
Ryder – A Dog Year
Lucy – A Dog Year
Shep – A Dog Year
British Names
According to the American Kennel Club (AKC), the Border Collie originated in Scotland and got its start in the region bordering Scotland and England, according to the American Kennel Club (AKC).
You could pay tribute to the breed's heritage with these British dog names or take a look at these Scottish dog names. They're unique, sophisticated, and perfect for a pup with British roots.
Male British Names
Sherman
Gallagher
Gavin
Wallace
Winston
Kingston
Keely
George
Baird
Chester
Charles
Devlin
Fairfax
Ladd
Darby
Aidan
Calder
Baron
Manfred
Lark
Alfred
Damien
Waite
Balfour
Corbin
Wynn
Murray
Rhy
William
Benson
Finn
Maddock
Scully
Dolan
Female British Names
Charlotte
Olivia
Jane
Abigail
Eleanor
Elvie
Saoirse
Isla
Sinead
Beatrice
Victoria
Emma
Daisy
Cordelia
Imogen
Siobhan
Noira
Isobel
Poppy
Elizabeth
Scotia
Kiera
Caitlin
Mary
Eugenie
Gemma
Other Fun Names
London – British capital
Brighton – city in England
Bristol – city in England
Avon – Stratford-upon-Avon
Edinburgh – Scotland capital
Oxford – city in England
York – city in England
Windsor – Windsor Castle
Camden – borough in London
Nessie – as in the Lochness Monster
Dame – noble title
Quid – slang for the pound sterling
Telly – nickname for the television
Queen
Final Thoughts
It's hard to think of a better companion in life than a dog. They offer love and joy, but most importantly, they can make us smile even on the worst days.
When you get a new dog, the first step is to find the perfect name.
Our guide to Border Collie names includes 785+ ideas, so we're confident you'll leave with plenty of inspiration.
You could go with a tried-and-true classic or a name that's tough and tenacious. Or perhaps you want to pay tribute to the breed's color, heritage, speed, or intelligence.
The options are endless!
As you search for options, save any ideas that sound interesting and narrow them down from there. Then, when you find the perfect name, you'll know.
Top Dog Naming Tips and Tricks
One of the most exciting yet challenging parts of being a new pup parent is picking out a name.
With so many excellent options, how do you narrow down the list?
First, we recommend you write down any name that sounds interesting. You can also select the heart icon to the left of the name to save it to a list.
Next, eliminate any name you don't completely love. If you're on the fence, remove it.
From there, try saying it out loud. Can you imagine calling for your dog with this name day in and day out?
Also, check to see if it fits your furry friend. Does it match their appearance? How about their personality?
You'll know when you've found the right one. Then it's time to teach it to your dog. Here is advice for that next step.
Other Name Ideas?
If you have an idea, we want to hear it! Please leave us a message in the comments below.
Also, please share what you decide to name your new pup! Tell us more about your dog, what you selected for a name and how you picked it.
View Your Saved Names