Pug Gifts – 10 Best Gifts for Pug Lovers
Published:

Last updated:

by Jessi Larson Affiliate Disclosure: We hope you love the products we've recommended! As an Amazon Associate we earn a small share from qualifying purchases.
The Pug is a unique-looking dog that packs a big personality in a compact little body. If you're shopping for someone who is a fan of this breed, you must check out our collection of Pug gifts.
People always appreciate a personalized gift. After all, it's a nice touch to buy a gift that has a special meaning. That's why we fully support the idea of buying Pug gifts if the person is a proud Pug parent.
This list of gifts for Pug lovers has something for everyone. We've included options in all different price ranges and for many different interests so you're sure to find something that's the perfect fit!
Pug Gifts – The Ultimate Guide
When looking for Pug gifts, where do you even begin?
Our philosophy is that the best gifts are both fun and practical. People have enough stuff and don't want to clutter their home with tchotchkes. At the same time, you have to have a little fun in your life.
As you'll see below, the items on this list are useful and amusing – the perfect combination!
Without further ado, here are 10 Pug gifts perfect for the Pug lover in your life.
The first idea on our list of Pug gifts is a simple but sweet sign that says "All you need is a hug and a pug."
Many people would agree that all you need in life is a big hug and your favorite pup!
Measuring 6 x 5 x 1.5 inches, the well-constructed sign fits into any space in a home while adding a decorative flare.
Why we like it:
The sweet, funny saying is perfect for Pug lovers
You can hang the sign from the wall or stand on a flat surface
The sturdy wood will stand the test of time
Almost everyone starts their day with a nice cup of coffee or tea. What better gift than a funny Pug mug that has fun with the iconic Starbucks logo?
Of all the Pug gifts on the list, this is a sure bet for almost anyone!
The mug is useful and will serve as a fun conversation starter.
Why we like it:
The extra large mug holds 15 oz of their favorite beverage
The humorous design is sure to delight
The mug is 100% dishwasher and microwave safe
Another great idea for Pug gifts: A pair of socks featuring the adorable dog.
After all, who doesn't love a comfy pair of socks? The gift recipient can show off their love of their favorite breed while keeping their toes toasty.
Why we like it:
Everyone loves a good pair of socks!
The Pug design is simply adorable
The socks are available in peach, blue or black
Today most dog owners consider their pup a part of the family. People display photos of their family members, so it only makes sense to have pics of their pup, right?
This elegant picture frame pays tribute to their favorite furball in a cute and funny way, and they'll love being able to show off their beloved pet!
Why we like it:
The sturdy, elegant 8 x 10 inch frame fits with any decor
They can add any 4 x 6 inch photo of their cherished pet
Of all Pug gifts, this will add the most personalized touch to their home
This Pug tote bag is both fun and functional. It serves as a handy bag for transporting snacks or meals and will also make people laugh out loud with its wacky Pug design.
Since it's made out of neoprene, the bag keeps items cold or hot for up to four hours, ensuring the food is always fresh.
Why we like it:
Everyone needs a quality lunch bag
The design is doggone adorable
The washable bag features a smooth zipper and comfort-grip rubber tab
Do you have a Pug person in your life who also likes to enjoy a nice glass of wine? Look no further for the perfect Pug gift.
This set of stemless wine glasses features etched silhouettes of the sweet and smooshy-faced furbaby. And for the perfect gift bundle, you can pair it with their favorite bottle of wine.
Why we like it:
The design is simple and stylish
Glasses are made from premium crystal glass
They can enjoy a nice glass of wine with their Pug curled up on their lap – the best gift ever!
Throw pillows are a great way to add pizzazz to a room. And if the Pug lover in your life has a playful sense of humor, they'll love this hilarious "Anatomy of a Pug" pillow cover. (Complete it with a 18 x 18 inch pillow insert.)
The recipient can use it to curl up and cuddle with their precious Pug. Let's face it – Pug gifts don't get better than that!
Why we like it:
The fun design adds life to a lackluster space
Pug owners will appreciate the funny take on Pug anatomy
The pillow is both practical and entertaining
Think coloring books are just for kids? Think again.
Today adult coloring books are more popular than ever. Researchers say they are packed with proven health benefits, like the ability to increase mindfulness and decrease negative thoughts.
If you know a Pug owner who could benefit from some rest and relaxation, this "I Love Pugs" coloring book is the perfect solution
Package it up with a box of colored pencils and you've got one of the best gifts for Pug lovers out there.
Why we like it:
Adult coloring books are great for your mental health
The designs are doggone adorable
It includes a color test page and bonus pages
Game nights with friends and family are always a blast. And now you can make the night even more fun with Pug-Opoly, an inventive take on the classic game that features the beloved breed.
A celebration of all things Pug, this gift is great for people who love a good game night as much as they love their darling dog.
Why we like it:
It's perfect for board game lovers with a Pug
All ages can play, making it great for those with kids
You can play the traditional game or the shorter one-hour version
Last but certainly not least on our list of Pug gifts is a hilarious Pug wine bottle holder.
Everyone needs a way to store their wine somehow, and this serves as an excellent conversation starter! People will definitely get a good laugh out of this wacky design.
Why we like it:
This is a wonderful gift for wine lovers
The design is sure to make people laugh out loud
You can pair it with a bottle of wine for the ultimate gift
Bonus Ideas:
When you look for gifts for Pug lovers, you might find you'd rather get a generic present and not something focused on the dog's breed.
If that's the case, we recommend the following items below. They're applicable to all small dogs, which means they're definitely Pug-approved!
These great treats are available in beef, chicken or turkey varieties. They're a high-quality treat made without unhealthy fillers. They can be broken into smaller pieces which make them great for sizing to your pup.
This toy is great fun for pups! They love to pull the little animals out of their hiding spots and carry them around. Plus it helps keep them from being bored. This toy comes in multiple sizes and with a variety of different animals.
These Zuke's mini treats are perfect for both smaller dogs and for training. When training a dog it's best to have small treats that taste great and these ones really deliver!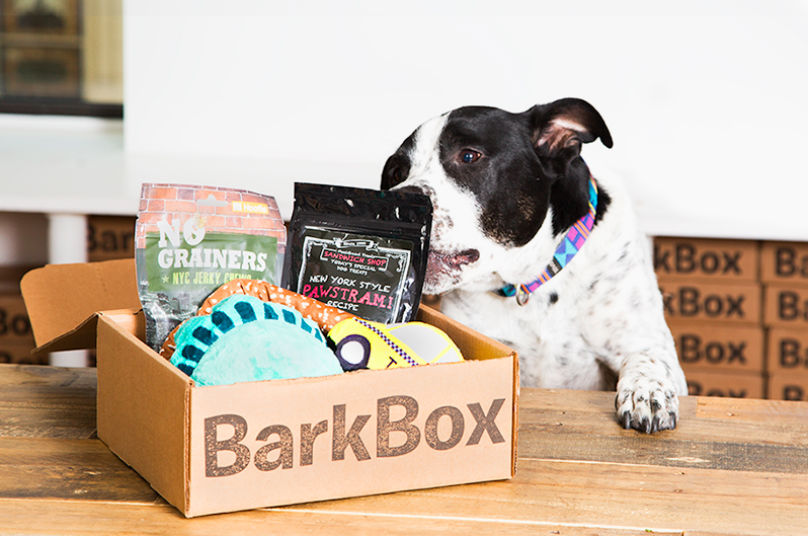 You've probably heard of BarkBox before. If not, here's the lowdown: It's a subscription service where every month a box full of cool dog treats and toys is delivered to your doorstep. The box includes 4-6 items curated from their current collection.
When you get started, you can pick your dog's size so all the treats and toys fit your pup just right.
What we love about this is that it's a fun surprise for dogs and pup parents alike. Getting a delivery every month is exciting! And it's also a convenient way to try out new treats and toys that you probably never would have heard of.
What do you think of these Pug gifts?
Of all these gifts Pug lovers, which one – or ones – do you like best? Share your feedback in the comments below!
Other Gift Ideas for Dog Lovers
Looking for more gift ideas? Check out our guide to the best gifts for pup parents, "50 Best Gifts for Dog Lovers."
Ideas range from free up to $200, so there's something in every price range.
The gifts also vary from funny and entertaining to useful and practical, ensuring there's something for everyone.
The list has all different types of gifts for dog lovers, so you'll definitely find something that fits their personality perfectly!