Poodle Gifts – 10 Best Gifts for Poodle Lovers
Published:

Last updated:

by Jessi Larson Affiliate Disclosure: We hope you love the products we've recommended! As an Amazon Associate we earn a small share from qualifying purchases.
The Poodle is a sophisticated, intelligent dog that has become one of the world's most recognizable and popular breeds. If you're shopping for someone who is a fan of this elegant yet athletic pup, you must check out our collection of Poodle gifts.
This list of gifts for Poodle lovers has something for everyone, with options in varying price ranges and for many different interests.
They often say the best gifts are ones that have a special meaning for the recipient. With Poodle gifts, you're focused on something that has incredible sentimental value to them: their cherished canine companion.
Here are 10 Poodle gifts perfect for the Poodle lover in your life.
This Poodle watercolor is a cool and colorful way to add flair to a room while paying tribute to their beloved breed.
Poodle lovers will adore this 11 x 14-inch print, which is printed on semi-matte archive paper to last a lifetime.
You can also buy a picture frame to create one of the best Poodle gifts around as an upgrade.
Why we like it:
The design is super stylish and bright
They will be touched that you're recognizing their favorite furbaby
The print can be hung at home or at their office
People love a good cup of coffee in the morning, and a mug that says "Best Poodle Dad Ever" or " Best Poodle Mom Ever" (depending on their gender, of course!) is a fun way to recognize their devotion to their dog.
The 11 oz ceramic mug is both dishwasher and microwave safe.
Of all the Poodle gifts on the list, this is an excellent option for almost anyone.
Why we like it:
Who doesn't need a coffee mug?
The design is simple and sophisticated
They'll feel honored you're calling them the best Poodle parent
Another fun idea for Poodle gifts is this cute key holder. It has five rounded hooks for hanging keys, your dog leash or harness, lanyards, cables & cords, medals, necklaces, face masks, or other small items. And a magnet will stick to it, too!
Why we like it:
The high-quality metal resists scratching
Great way to honor your pet and useful as well
With this super cute (and customizable!) Poodle design, your special person can show off their love for this sweet breed with a humorous pillow.
Throw pillows help spruce up a room and add a pop of personality, and this design is as cute as it is funny.
Note that this case also needs an 18 x 18-inch pillow insert.
Why we like it:
The design is oh-so adorable
It's a great conversation piece
Their Poodle can curl up on the couch with it
Adult coloring books are trendy these days and have been proven to help people relax and decrease negative thoughts. And, fortunately for us, now you can buy books designed especially for Poodle lovers.
We love this coloring book because it features Poodles traveling worldwide to exotic locations, which is a pretty cool concept.
Package this up with a box of colored pencils, and you've got one of the best gifts for Poodle lovers out there.
Why we like it:
Adult coloring books are a great way to relax and increase mindfulness
The designs are fun and uplifting
10% of the profits go to the charity Hearing Dogs for Deaf People
Another excellent idea for Poodle gifts: A cozy pair of socks featuring the elegant and proud pup. After all, who doesn't love a nice pair of socks? Plus, the design is doggone adorable.
The unisex design fits women's sizes 5-11 and men's sizes 6-10.
Why we like it:
One size fits most
They can show off their Poodle love on their feet
Part of the proceeds supports animal shelters to find new homes for pets in need
If you have a Poodle lover in your life who also likes to enjoy a nice glass of wine, look no further for Poodle gifts.
This 18 oz dishwasher-safe wine glass features a simple and sophisticated design. And with this present, they can enjoy a glass of wine with their Poodle curled up in their lap, which might be the best gift of all.
Why we like it:
You can pair it with a bottle of wine for the ultimate gift
It's a great conversation piece
Also, it's fun and they'll get practical use out of it
PopSockets are the small circular things you see on the back of everyone's phones these days, and believe it or not; they actually make a pretty practical gift.
How it works is that the PopSocket pulls out like an accordion and makes it easier for texting, calling, taking photos, and more.
Best of all, this Poodle PopSocket features a darling design your special person will love!
Why we like it:
A PopSocket is practical and fun – a perfect combination for Poodle gifts!
It works with any phone (no need to track down the model)
Also, it could make a great stocking stuffer
Who said you couldn't display photos of your furry family members? This Poodle picture frame is a stylish and thoughtful gift that can be personalized with any photo you have of their pup, or you can leave it blank and let the recipient add whatever picture they like.
Of all the Poodle gifts on the list, this will add the most personal touch to their home.
Why we like it:
The simple and charming design fits with any decor
The shadow-box style is unique and elegant
They can put it anywhere – in the living room, bedroom, office, den, etc.
And for the final entry on our guide to the best Poodle gifts, here is a stylish and meaningful sign that says, "All you need is love…and a Poodle."
This statement rings true for so many dog lovers – all you need in life is love and your favorite pup!
The sturdy sign measures 6 x 2.5 inches and can hang from the wall or stand on a flat surface.
Why we like it:
The size is small enough to fit in any space while making a big impact
The distressed design gives the sign a modern look
The message is perfect – or should we say paw-fect? – for Poodle lovers
Bonus Gift Ideas:
Bully Sticks are fantastic, long-lasting treats that we love giving to our dog Toby. He enjoys them, and they last longer than most other treats.
The Kong Wubba is a fun toy with tails that make it easy to toss to your pup to chase after. It's covered in durable nylon that contains a squeaker and a tennis ball.
These marvelous treats are available in beef, chicken, or turkey varieties. They're a high-quality treat made without unhealthy fillers. In addition, they can be broken into smaller pieces which make them great for sizing to your pup.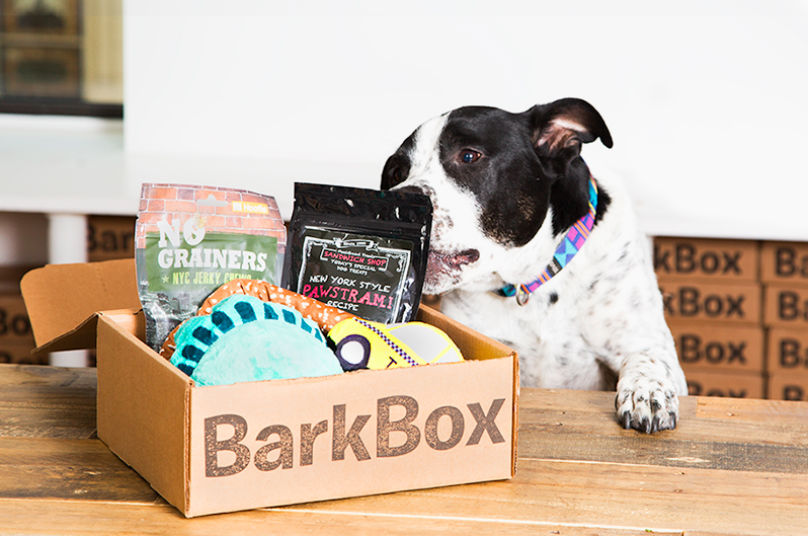 You've probably heard of BarkBox before. If not, here's the lowdown: It's a subscription service where every month, a box full of cool dog treats and toys is delivered to your doorstep. The box includes 4-6 items curated from their current collection.
When you get started, you can pick your dog's size, so all the treats and toys fit your pup just right.
What we love about this is that it's a fun surprise for dogs and pup parents alike. Getting a delivery every month is exciting! And it's also a convenient way to try out new treats and toys that you probably never would have heard of.
What do you think of these Poodle gifts?
Of all these gifts for Poodle lovers, which one – or ones – do you like best? Share your feedback in the comments below!