Dachshund Gifts – 10 Best Gifts for Dachshund Lovers
Published:

Last updated:

by Jessi Larson Affiliate Disclosure: We hope you love the products we've recommended! As an Amazon Associate we earn a small share from qualifying purchases.
If you're shopping for someone who is a Dachshund fan, you must check out our collection of Dachshund gifts.
The Dachshund is a sweet and spunky dog with a unique yet unbelievably adorable body shape. It's no wonder your friend or family member is a fan of this wonderful breed!
They say people appreciate a personalized gift. This is why we fully support the idea of buying Dachshund gifts if the person is a proud parent to a wiener dog, as they're affectionately called.
This list of gifts for Dachshund lovers has something for everyone. With many different ideas and options in all different price range, you're sure to find a present that's the perfect fit!
Dachshund Gifts – The Ultimate Guide
When looking for Dachshund gifts, where do you even begin?
At My Dog's Name, we believe that the best gifts are both fun and practical.
Today people have so much stuff and don't need more things cluttering their home. At the same time, it's important to have a little fun in your life.
As you'll see below, the items on this list are useful and amusing – the perfect combination!
Here are 10 Dachshund gifts perfect for the Dachshund lover in your life.
A coffee mug is a practical and purposeful gift. After all, almost everyone enjoys a good cup of coffee or tea in the morning.
And with these Dachshund dad and mom mugs, you'll affirm that they are a great parent to their beloved dog.
Best of all, if you have a Dachshund lover in your life and don't know what to get them, this is a perfect solution since everyone needs a good coffee mug.
Why we like it:
You're complementing their skills as a pup parent
Everyone needs a good mug for their coffee or tea
The mugs are microwave and dishwasher safe
Just when you thought there was nothing better than eating corn on the cob, these Dachshund corn holders came along.
The stainless steel prongs ensure a secure grip on the corn cob, so you can eat with ease.
But let's be honest, the real fun is the hilarious visual that these give off when you attach them to the corn.
When it comes to Dachshund gifts, this is definitely a fan favorite!
Why we like it:
It's both incredibly practical and endlessly entertaining
The package includes four sets so the whole family can enjoy
This will be a hit at summer BBQs
You can make game night even more fun with Dachshund-Opoly, an inventive take on the classic game that features the beloved wiener dog breed.
A celebration of all things Dachshund, this gift is great for people who love playing board games as much as they love their darling dog.
Dachshund-Opology is especially great for those with kids since it'll provide hours of family-friendly entertainment.
Why we like it:
It's a great gift for board game lovers with a Dachshund
You can play the traditional game or the shorter one-hour version
All ages can play, which is great for those with kids
Everyone needs a set of drink coasters to keep their table surfaces safe. But no one said they have to be boring!
We love this wiener dog design because it's simple and classy yet oh-so funny.
Strong and absorbent, these Dachshund drink coasters go great with any decor. They add a minimalist flare while serving as a great conversation starter.
Why we like it:
These coasters make a cute addition to any end table
They're both practical and fun
It's a great gift for birthdays, holidays or housewarming parties
Do you have a Dachshund dad or mom in your life who also likes to enjoy a nice glass of wine? Of all the Dachshund gifts on the list, this might just be the one then.
After a long day, they can curl up on the couch with their favorite glass of wine in this super funny glass.
As a bonus, you can pair it with their favorite bottle of wine for the ultimate gift bundle.
Why we like it:
The design is adorable and hilarious
The high-quality glass is sturdy and durable
They can enjoy a nice glass of wine with their Dachshund curled up on their lap – the best gift ever!
Up next on our list of Dachshund gifts is a simple but sweet sign that says "All you need is love…and a Dachshund."
Measuring 6 x 1.8 x 2.5 inches, the sturdy sign fits with any decor and can be hung from the wall or placed on a flat surface.
Best of all, most people will agree with the sign's statement: All you do need in life is love and your favorite pup!
Why we like it:
The sweet, funny saying is perfect for Dachshund lovers
The sturdy wood will stand the test of time
The stylish design fits with any decor
Got a Dachshund lover in your life who is also a Star Wars fan? Your search for Dachshund gifts is over.
This hilarious "Wiener Wars" T-shirt is a fun play on the incredibly popular sci-fi series. The new main characters are now Dachshunds named Han So Low and Dach Vader – how hilarious is that?!
The T-shirt is available in men's, women's and youth sizes and four different colors, so there's no doubt you'll find the perfect fit for your gift recipient.
Why we like it:
This is the ultimate gift for any Star Wars fan/Dachshund lover
The punny design is ridiculously adorable
The T-shirt is available in a wide range of sizes
Adult coloring books are incredibly popular these days. Researchers say they are packed with proven health benefits, like the ability to increase mindfulness and decrease negative thoughts.
With how stressed out people are today, it's no wonder why they turn to something fun and relaxing like an adult coloring book!
If you know a Dachshund lover who could benefit from some rest and relaxation, this "Darling Dachshunds" coloring book is the perfect solution
You can also package it up with a box of colored pencils and you've got one of the best gifts for Dachshund lovers out there.
Why we like it:
Adult coloring books boast many proven health benefits
The Dachshund designs are doggone adorable
Each illustration is included in two sizes, one per page and two per page, so they can give it a practice run first
Here's another idea for Dachshund gifts: Buy the special person a pair of socks featuring the adorable dog.
Everyone loves a pair of comfy socks, and this gift includes not one but two pairs.
The Weiner dog design is beyond adorable, and best of all, they can show off their love of their favorite breed while keeping their toes toasty.
Why we like it:
Socks are a universal gift that everyone can enjoy
It includes two pairs, each with a different design
The design is cute, cute, cute!
Last but certainly not least on our list of Dachshund gifts is a ridiculously funny wine bottle holder.
At the heart of it, this is a practical gift. People need a way to store their wine, after all!
But even better, this wine holder serves as an excellent conversation starter that will make many people laugh out loud.
Why we like it:
The design is sure to crack people up
This is a one-of-a-kind gift for wine lovers
Throw in a bottle of wine and you've got a great gift
Bonus Ideas:
When you look for gifts for Dachshund lovers, you might find you'd rather get a generic present and not focus on the dog's breed.
If that's the case, we recommend the following items below. Since they're applicable to all small dogs, this means they're definitely Dachshund-approved!
These great treats are available in beef, chicken or turkey varieties. They're a high-quality treat made without unhealthy fillers. They can be broken into smaller pieces which make them great for sizing to your pup.
This toy is great fun for pups! They love to pull the little animals out of their hiding spots and carry them around. Plus it helps keep them from being bored. This toy comes in multiple sizes and with a variety of different animals.
These Zuke's mini treats are perfect for both smaller dogs and for training. When training a dog it's best to have small treats that taste great and these ones really deliver!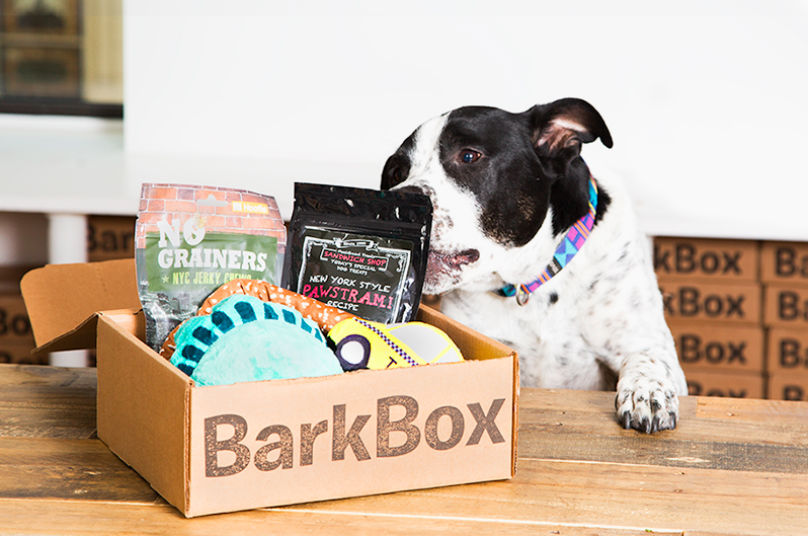 You've probably heard of BarkBox before. If not, here's the lowdown: It's a subscription service where every month a box full of cool dog treats and toys is delivered to your doorstep. The box includes 4-6 items curated from their current collection.
When you get started, you can pick your dog's size so all the treats and toys fit your pup just right.
What we love about this is that it's a fun surprise for dogs and pup parents alike. Getting a delivery every month is exciting! And it's also a convenient way to try out new treats and toys that you probably never would have heard of.
Other Gift Ideas for Dog Lovers
Looking for more gift ideas? We've created a guide to the best gifts for pup parents – "50 Best Gifts for Dog Lovers."
Gifts vary from funny and entertaining to useful and practical. And prices range from free up to $200, so there's something in every budget.
The list has all different types of gifts for dog lovers, so you'll definitely find something that fits their personality perfectly!