Corgi Gifts – 10 Great Gifts for Corgi Lovers
Published:

Last updated:

by Jessi Larson Affiliate Disclosure: We hope you love the products we've recommended! As an Amazon Associate we earn a small share from qualifying purchases.
Corgis are adorable, distinct-looking dogs, and what they lack in height, they certainly make up in personality. If you're shopping for someone who is obsessed with this low-riding pup, you must check out our collection of Corgi gifts.
This list of gifts for Corgi lovers has something for everyone, in all different price ranges, and for many different interests.
When you set out to buy a present for someone, it's always nice to make it as personalized as possible. That's why we love the idea of buying Corgi gifts if the special person is a fan of this short and sweet breed.
Here are 10 Corgi gifts perfect for the Corgi lover in your life.
These adorable dog-shape vases perfectly holds a small succulent – which you'll have to buy separately, FYI – and add warmth and happiness to a room.
Or, instead of a succulent, they can use the Corgi containers as storage for other objects, like pens and pencils, spare change, etc.
Whatever the purpose, this is a fun, adorable option when you're looking for gifts for Corgi lovers.
Why we like it:
It adds joy and happiness to any room
You can pick out any succulent plant you like
This is a gift anyone can enjoy
Corgi gifts don't get much more straightforward than this – and that's why we love it. If you have a Corgi lover in your life and don't know what to get them, a Corgi mom or dad mug is a perfect solution. After all, almost everyone enjoys a good cup of coffee or tea in the morning.
Why we like it:
Everyone needs coffee mugs
You affirm that they are a great Corgi mom or dad
They are microwave and dishwasher safe
Throw pillows are a great way to add a little pizzazz to a room without completely redecorating. This super cute Corgi pillow case (pillow insert sold separately) adds a pop of color and lots of character to a space while paying tribute to the wonderful creature that is the Corgi.
Why we like it:
The design is so doggone adorable!
Throw pillows are a great way to quickly add style to a room
The fabric is thick and durable and will stand the test of time
When looking for Corgi gifts, you could go at it from another, um, angle. This hilarious PopSocket highlights the other side of the beloved Corgi.
Humor aside, this is actually a pretty practical gift. The PopSocket's collapsible grip gives you a secure hold that makes it easier for texting, calling, taking photos and more.
Why we like it:
It works with any phone
Who can resist the hilarious design?
It's practical and funny – a perfect combination for Corgi gifts!
Adult coloring books are all the rage, and now there is a book designed specifically for Corgi lovers!
Coloring – even as an adult – has so many benefits, like increased mindfulness, reduced anxiety and fewer negative thoughts.
Package this up with a box of colored pencils and you've got one of the best gifts for Corgi lovers around.
Why we like it:
Adult coloring books are a great way to relax
The designs are cute and uplifting
It comes with a link to a free PDF so they can print the designs and color them as many times as they wish
Having a hanging rack is essential for dog owners. After all, you have to have a place to hang your dog's leash, collar and other items.
Instead of a few boring hooks, this Corgi metal rack spruces things up with a fun, modern design. Corgi gifts can be fun and useful all at the same time.
Why we like it:
It's a subtle way to add a little Corgi flare to a home
You'll help the recipient stay organized
Installation is easy – just secure with two screws and you're done
Do you have a Corgi lover in your life who also likes a nice glass of wine? Look no further.
As you search for Corgi gifts, this stemless wine glass featuring a Corgi silhouette just might be the right fit. Because enjoying a nice glass of wine with a Corgi cuddled up in your lap is the perfect way to end the day.
Why we like it:
The design is cute and subtle
It's a perfect Corgi gift for a wine lover
You can pair it with a bottle of wine for the ultimate gift!
Did this mug make you crack up? At the very least, it probably brought a smile to your face.
The Corgi is such a unique-looking creature, and this cute mug has a bit of fun with the dog's small stature.
And as we've said before, everyone needs a good coffee mug.
Why we like it:
It is sure to make the recipient laugh
The design is so cute!
You can package it with a bag of coffee beans or box of tea
We have framed pictures of our human loved ones, so why not share the love and show off our lovable furbabies?
This dog picture frame is a sweet gift that can be personalized with any photos of your corgi you have, or you can leave it blank let the recipient fill it in.
Of all the Corgi gifts on the list, this definitely adds a more personal touch.
Why we like it:
It's a personalized gift that highlights their beloved pup
The frame can go anywhere – in the living room, office, bedroom, wherever!
The design fits with any decor
Last but not least on our list of Corgi gifts is a Corgi-shaped baking pan. If your gift recipient likes to bake, is obsessed with celebrating their dog's birthday, or both, this is the ultimate gift!
The pan can be used to make cake for humans or for dogs and is easy to clean when you're done.
Why we like it:
It's perfect for baking enthusiasts and kitchen amateurs alike
The 100% silicone pan is oven safe, dishwasher safe and non stick
They'll love the chance to bake a special cake for their Corgi
Bonus Ideas:
These great treats are available in beef, chicken or turkey varieties. They're a high-quality treat made without unhealthy fillers. They can be broken into smaller pieces which make them great for sizing to your pup.
This toy is great fun for pups! They love to pull the little animals out of their hiding spots and carry them around. Plus it helps keep them from being bored. This toy comes in multiple sizes and with a variety of different animals.
These Zuke's mini treats are perfect for both smaller dogs & for training. When training a dog it's best to have small treats that taste great and these ones really deliver!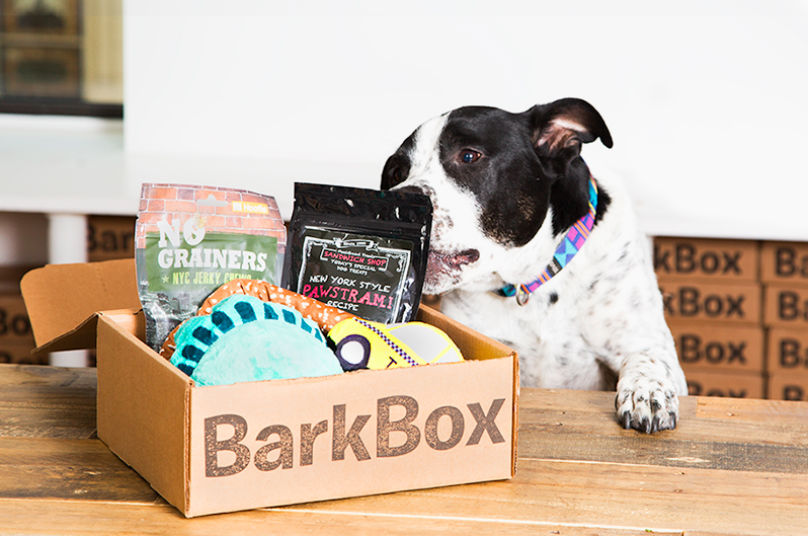 You've probably heard of BarkBox before. If not, here's the lowdown: It's a subscription service where every month a box full of cool dog treats and toys is delivered to your doorstep. The box includes 4-6 items curated from their current collection.
When you get started, you can pick your dog's size so all the treats and toys fit your pup just right.
What we love about this is that it's a fun surprise for dogs and pup parents alike. Getting a delivery every month is exciting! And it's also a convenient way to try out new treats and toys that you probably never would have heard of.
What do you think of these Corgi gifts?
Of all these gifts for Corgi lovers, which one – or ones – do you like best? Share your feedback in the comments below!