Beagle Gifts – 10 Best Gifts for Beagle Lovers
Published:

Last updated:

by Jessi Larson Affiliate Disclosure: We hope you love the products we've recommended! As an Amazon Associate we earn a small share from qualifying purchases.
The Beagle is a friendly and curious dog with an adorably sweet face that has melted hearts all over the world. If you're shopping for someone who is a fan of this clever, energetic pup, you must check out our collection of Beagle gifts.
This list of gifts for Beagle lovers has something for everyone, with options in all different price ranges and for many different interests.
They say the best gifts in life are ones that have a special meaning for the recipient. That's why we love the idea of buying Beagle gifts if the person is a fan of this small little hound.
Here are 10 Beagle gifts perfect for the Beagle lover in your life.
This Beagle watercolor print is a stylish, colorful way to add a bit of pizzazz to a space while recognizing their favorite furbaby.
Best of all, you can personalize it by adding their dog's name and picking either a warm or bright color palette.
Print sizes range from 6 x 8 inches to 16 x 20 inches, and an optional upgrade to a mounted art board is available.
Why we like it:
You can easily personalize it with their dog's name
The design is super cute and colorful
It's printed on premium heavyweight fine art matte paper
Another idea is to recognize their favorite breed with this personalized Beagle coffee mug. After all, who doesn't enjoy a good cup of coffee or tea in the morning?
Of all the Beagle gifts on the list, this is a safe bet for almost anyone.
Why we like it:
The design is simple and sophisticated
You can customize it with their dog's name
Coffee mugs are always a good gift option
Monopoly is known for its buying, trading and rent-paying action, and now you can buy a version of the game geared around the fabulous furball that is the Beagle.
A celebration of all things Beagle, this gift is great for people who love a good game night or who have kids and would be entertained with this fun game.
Why we like it:
It's perfect for board game lovers with a Beagle
All ages can play, making it great for those with families
You can play the traditional game or the shorter one-hour version
Throw pillows are an excellent way to add a bit of pop to a room. And with this colorful Beagle pillow, your special person can show off their love for their precious pup with this adorable design.
Note that this case also needs a 18 x 18 pillow insert.
Why we like it:
The design is heartwarmingly cute
It's a great conversation piece for any home
The green environmental protection printing and dyeing process is eco-friendly
Adult coloring books have been proven to help people relax, increase mindfulness and decrease negative thoughts, so it's no wonder why they're so popular these days. And, fortunately for us, now you can buy ones designed especially for Beagle lovers.
We love this coloring book because it features a Beagle traveling around the world to exotic locations. How cute and cool is that?
Package this up with a box of colored pencils and you've got one of the best gifts for Beagle lovers we've come across.
Why we like it:
Adult coloring books are a great way to relax
The designs are fun and inspiring
10% of the profits go to the charity Hearing Dogs for Deaf People
Another great idea for Beagle gifts is to buy a pair of socks featuring the spirited hound. People always love comfy socks, and this pair shows off their favorite canine breed.
The unisex design fits women's sizes 5-11 and men's sizes 6-10.
Why we like it:
The design is doggone adorable
They can show off their love for Beagles on their feet
Part of the proceeds supports animal shelters to find new homes for pets in need
If you have a Beagle lover in your life who also likes to enjoy a glass of wine, this wine glass featuring a Beagle silhouette just might be the right fit.
You can pair it with a bottle of wine to create the ultimate gift bundle.
Why we like it:
It's a perfect Beagle gift for a wine lover
The design is simple and stylish
They can enjoy a glass of wine with a Beagle curled up on their lap – the best gift of all!
PopSockets are the small circular things you see stuck on everyone's phones these days, and believe it or not, they actually make both a fun and practical gift.
On the practical side, PopSockets make it easier for texting, calling, taking photos, and more. On the fun side, it's a cute tribute to your special person's beloved breed.
What we love about this Beagle PopSocket is its colorful and super cute design.
Why we like it:
It works with any phone (no need to track down the model!)
The design is cute as can be
A PopSocket is practical and fun – a perfect combination for Beagle gifts!
We have pictures of our human loved ones, so why not share the joy and show off our furry family members?
This Beagle picture frame is a thoughtful gift that can be personalized with any photo you have of their pup or you can leave it blank and let the recipient add whatever photo they like.
Of all the Beagle gifts on the list, this will add the most personal touch to their home.
Why we like it:
They can personalize it with their favorite picture of their pup
The design fits with any home decor
They can put the frame anywhere – in the living room, bedroom, office, den, etc.
Last but not least on our guide to the best Beagle gifts is a simple but thoughtful sign that says "All you need is love…and a Beagle."
Ultimately, this statement is spot on – all you do need in life is love and your favorite dog!
The sturdy sign measures 6 x 2.5 inches and is small enough to fit into any space but big enough to make an impact.
Why we like it:
The sign can hang from the wall or stand on a flat surface
The message is positive and playful all at the same time
It's made of high quality wood and will last for years
More Ideas:
These great treats are available in beef, chicken or turkey varieties. They're a high-quality treat made without unhealthy fillers. They can be broken into smaller pieces which make them great for sizing to your pup.
This toy is great fun for pups! They love to pull the little animals out of their hiding spots and carry them around. Plus it helps keep them from being bored. This toy comes in multiple sizes and with a variety of different animals.
These Zuke's mini treats are perfect for both smaller dogs & for training. When training a dog it's best to have small treats that taste great and these ones really deliver!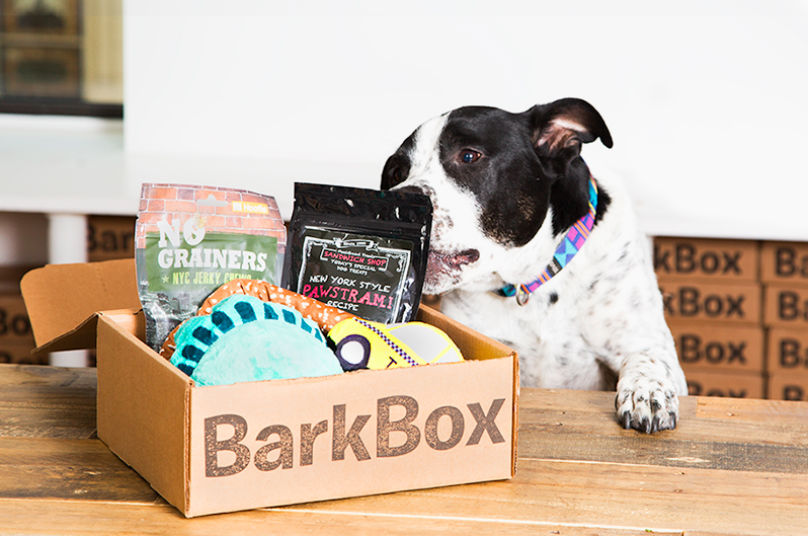 You've probably heard of BarkBox before. If not, here's the lowdown: It's a subscription service where every month a box full of cool dog treats and toys is delivered to your doorstep. The box includes 4-6 items curated from their current collection.
When you get started, you can pick your dog's size so all the treats and toys fit your pup just right.
What we love about this is that it's a fun surprise for dogs and pup parents alike. Getting a delivery every month is exciting! And it's also a convenient way to try out new treats and toys that you probably never would have heard of.
What do you think of these Beagle gifts?
Of all these gifts for Beagle lovers, which one – or ones – do you like best? Share your feedback in the comments below!