The 10 Best Kong Dog Toys for Under $20
Published:

Last updated:

by Jessi Larson Affiliate Disclosure: We hope you love the products we've recommended! As an Amazon Associate we earn a small share from qualifying purchases.
As a dog owner, you've likely heard of KONG dog toys. And if not, you are in for a great surprise because many, many pup parents LOVE these toys. Myself included.
My 110-lb dog has a short attention span for toys and also likes to destroy them in the process of "playing." But, believe it or not, we still have the original classic KONG we bought him four years ago when he was a puppy. All his other toys have been completely shredded since that time.
What's so brilliant about KONG toys is that they're made with highly durable materials that last forever but don't hurt your dog's teeth. That's rare to find. Adding to the brilliance, the designs challenge a dog physically and mentally, keeping pups entertained for a long time.
Luckily, these toys don't break the bank either. All of them are quite affordable, but you can get some steals. We've gathered up the 10 best KONG toys for $20 or less.
1. Ball Dog Toy
The KONG ball is awesome because it allows your dog to fetch and chew in one. How it works is that a hole is drilled down the center so you can fill the ball with peanut butter or other treats. We love to use this to play fetch with Toby and then watch him get worn out trying to get the peanut butter inside.
Another cool thing is that the ball bounces, so if you have a hard surface like a driveway, it's a blast to watch your dog jump around to get the ball.
2. Wubba Dog Toy
The KONG Wubba toy includes two balls – one tennis ball and one squeaker ball – underneath a strong nylon fabric. If you grab the toy by the tail and throw, it goes sailing thanks to the aerodynamic design. Not only is it good for fetch, it also stands up to a game of tug-of-war.
3. Goodie Bone Dog Toy
This isn't just any chew bone. The ends feature a patented design called "goodie grippers" to hold onto treats and provide an additional challenge for your dog. Pups really have to work at it to get their treat.
4. Squeezz Ball
The KONG Squeezz Ball includes a squeaker toy inside but before you say, "But my dog always tears the squeaker out!", chew on this: the ball has recessed hidden squeakers that keep the squeak going even when punctured. How cool is that?
Another cool feature is that the ball bounces erratically, keeping your dog on their toes.
5. Air Dog Squeaker Toy
What if you took tennis ball material and turned it into another shape dogs love? The Air Dog Squeaker Toy does just that. In addition to the bone shown above, KONG also offers shapes in the form of a donut, dumbbell and football.
6. Cuddling Octopus Cuteseas
While not great for the big-time chewers, this is a fun toy for dogs that don't completely devour their toys. It makes a fun crinkly noise that entertains dogs and makes them want to keep playing.
7. Genius Leo Dog Toy
This treat-releasing puzzle toy is a great way to keep your dog entertained and occupied. Simply stuff the inside with tiny treats or bits of dog food and see how long it takes your dog to dig out the goodies. (Hopefully a long time!)
If you want to add an extra challenge, connect with other KONG Genius shapes to really test your dog.
8. Kong Extreme Tire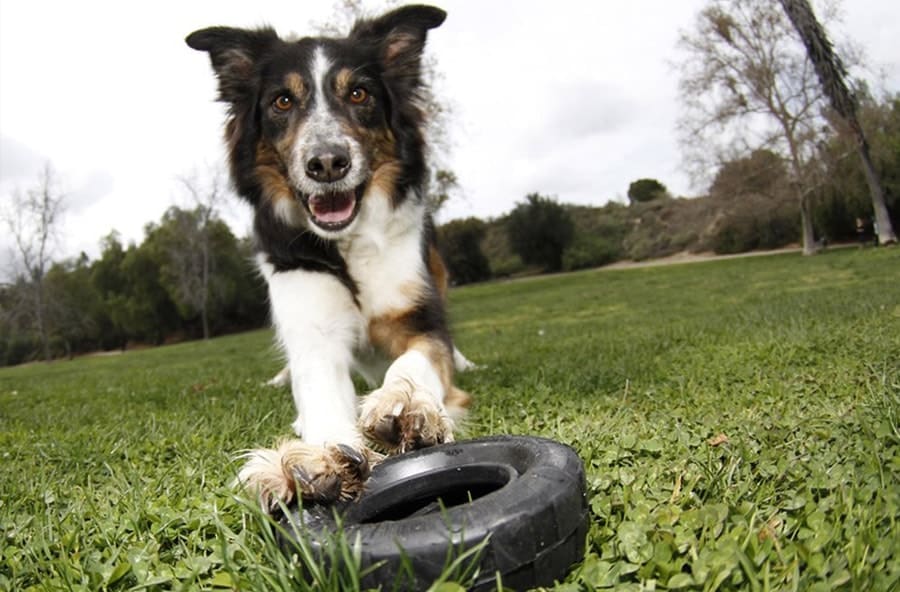 This toy is awesome for chewers. It's made with extra tough material to hold up to your aggressive pup!
9. Tug Toy
This toy is super fun for dogs that love to pull. It has easy to hold handles for both you and your pup – or even two pups to pull against each other!
10. Air Dog Squeaker Ball for Dogs
And finally, you can't go wrong with a classic tennis ball. Because it's from KONG, this version is extra strong, floats in water and includes a squeaker. You'll be ready for the ultimate game of fetch with your furbaby!
It's always fun to get our dogs a new toy, but as I'm sure you know, this can add up quickly. Luckily these bargain buys won't exactly blow your budget!
* Just a quick note that all prices were $20 or under at the time this article was published. Prices may change.